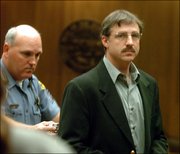 Related document

Miller v. State ( .PDF )
Martin Miller, who was convicted of murder in the 2004 slaying of his wife, Mary Miller, will get a new trial.
The Kansas Supreme Court on Friday overturned his conviction based on an incorrect written jury instruction.
"Our office will review the decision and prepare to try Miller again for the death of his wife. Our hearts are heavy for the Miller children who will be called upon to testify again," said Douglas County District Attorney Charles Branson.
Branson added, "Prior appellate courts found the evidence against Martin Miller was overwhelming."
No date has been scheduled for the new trial.
Miller was convicted of first-degree murder for the July 28, 2004, death of Mary Miller, 46, at the family's central Lawrence home. Prosecutors accused Miller of strangling his wife in her sleep because he had been having an affair with another woman and wanted to collect $300,000 in life insurance.
But in a unanimous decision Friday, the Kansas Supreme Court said the written jury instruction given by Douglas County District Court Judge Paula Martin in the trial was in error.
The court said that the written instruction about reasonable doubt substituted the words "each" for "any" and found that substantially changed the meaning to Miller's detriment.
"The written instruction given at Miller's trial was erroneous because it told the jury to acquit Miller only if it had a reasonable doubt as to every element of Miller's first-degree murder charge rather than a reasonable doubt as to a single element. And in doing so, it did not correctly describe the standard that the jury was required to apply in finding Miller guilty or not guilty," wrote Justice Dan Biles.
Miller had been a carpenter and Christian school leader in Lawrence.
Attempts to reach his parents for comment were unsuccessful.
In 2007, the Kansas Supreme Court had upheld the earlier direct appeal of Miller's guilty verdict. In 2012, a Kansas Court of Appeals panel said Miller should get a new trial because of the errors in the jury instructions.
Miller, who was also a board member at Veritas Christian School, had told jurors in the trial he was sleeping in another room when he heard Mary Miller, a Kansas University librarian, having an some kind of attack and went to comfort her before she died.
Judge Martin had sentenced him to serve 25 years to life in prison. Martin is currently incarcerated in the Lansing Correctional Facility.
Copyright 2018 The Lawrence Journal-World. All rights reserved. This material may not be published, broadcast, rewritten or redistributed. We strive to uphold our values for every story published.