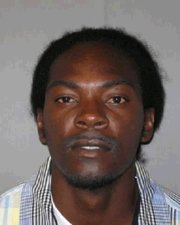 A 34-year-old Lawrence man will go to trial in June on multiple charges including attempted first-degree murder in connection with an early morning shooting last month.
On Wednesday, JD Turner pleaded not guilty to attempted first-degree murder, criminal possession of a firearm by a felon, aggravated assault with a deadly weapon and domestic battery. Turner, who is in jail on a $350,000 bond, appeared in Douglas County District Court, where District Judge Michael Malone set a June 23 trial date.
Turner is accused of shooting Anthony Wisdom during a confrontation in the early morning hours of Feb. 14 at L.R. "Dad" Perry Park. During a preliminary hearing earlier this month, Wisdom testified that he suffered nine bullet wounds on his arm, abdomen, pelvis and leg. He said he ran for cover in a wooded area after Turner started shooting and dialed 911 once he heard Turner drive away.
The shooting allegedly spawned from a dispute between Turner and his live-in girlfriend, Rebecca Wadkins, who is also Wisdom's longtime friend. Wadkins testified in court earlier this month that Turner gave her a black eye during a fight the day before the shooting and that Turner later saw a Facebook message sent from Wisdom to Wadkins that expressed Wisdom's desire to "put hands on" Turner. Wadkins said Turner then brandished a gun and demanded Wadkins tell Wisdom that Turner wanted to meet him in the park.
Malone also set a May 30 motions hearing Wednesday to precede the jury trial.
Copyright 2018 The Lawrence Journal-World. All rights reserved. This material may not be published, broadcast, rewritten or redistributed. We strive to uphold our values for every story published.