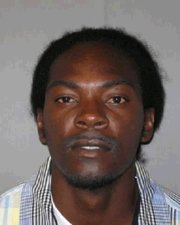 Anthony Wisdom showed up at L.R. "Dad" Perry Park hoping face-to-face conversation would be enough to quell a beef, he told the court Wednesday. In case things escalated, he took off his glasses and started stretching.
That did not prepare him for what happened when a man he identified as JD Turner arrived.
"He pulled up, got out of the car, said 'This is what I got for you' and started shooting," Wisdom said. "I felt the bullets hitting me. It kind of took me a second to really realize what was going on."
Wisdom took the witness stand at a preliminary hearing for Turner, who is charged with attempted first-degree murder in connection with the Feb. 14 confrontation at the park. Douglas County District Court Judge Michael Malone ordered Turner to stand trial, saying evidence showed probable cause that Turner committed the crime.
Turner's arraignment and trial dates will be set later.
Turner also is charged with criminal possession of a firearm by a convicted felon, aggravated assault with a deadly weapon and domestic battery in connection with the incident. He was jailed on a $350,000 cash or surety bond.
Wisdom said he had nine bullet wounds on his arm, abdomen, pelvis and leg. His left arm, still in a cast Wednesday, was broken from the shooting and required a steel plate and screws. He said doctors surgically removed one bullet from his torso but that others passed through his body.
Wisdom said he ran for cover in a wooded area after Turner started shooting. "At that point I just laid there and hoped he would think I was dead."
After he heard Turner drive away, Wisdom said, he made his way to his car to reach his cellphone and call 911.
The dispute between the two men started with a dispute between Turner and the mother of his child, Wisdom said.
Turner's live-in girlfriend, Rebecca Wadkins, told the court that she and Turner fought the day before and that Turner left her with a black eye and bruised face.
Wadkins said she sent Facebook messages to Wisdom, a longtime friend, telling him about the fight and asking for help getting her Google Voice account to work because Turner had taken her phone.
One of Wisdom's responses indicated he wanted "to put hands on" Turner, Wadkins said. Turner became angry when he saw the message and — while brandishing a gun — demanded Wadkins send Wisdom a message telling him Turner wanted to meet him.
Wisdom said he had gone to bed when he received more messages and eventually called Turner in the early-morning hours of Feb. 14. Wisdom said he realized he was wrong for getting involved in "other people's business" and apologized but that Turner didn't want to hear it. Wisdom agreed to go to the park.
"It just seemed to me that he wasn't going to let it go," Wisdom said.
Both Wisdom and Wadkins testified they had never seen Turner with a gun before that night.
Copyright 2018 The Lawrence Journal-World. All rights reserved. This material may not be published, broadcast, rewritten or redistributed. We strive to uphold our values for every story published.