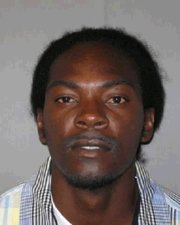 A 34-year-old Lawrence man has been charged with attempted first-degree murder after a shooting early Friday morning left a man in critical condition.
Lawrence police arrested JD Turner shortly before 3 a.m. after responding to a report of a shooting at L.R. "Dad" Perry Park at about 2:15 a.m., said Sgt. Trent McKinley, Lawrence Police Department spokesman.
Officers found the victim, who was shot multiple times, inside his vehicle in the north parking lot of the park, near the intersection of Harvard Road and Monterey Way. Medical personnel reported the victim's injuries to be critical and requested an air ambulance, which took the victim to a Topeka-area trauma center, McKinley said.
The victim was able to give police the name and vehicle description of the man who shot him.
"The suspect and victim were known to one another and were involved in a verbal altercation before the shooting occurred," McKinley said.
Officers arrested Turner after a car stop near 23rd and Harper.
The shooting victim remains hospitalized and police are not releasing his name, McKinley said.
Turner has two prior convictions in Douglas County: in 2000 for narcotics possession and in 2006 for narcotics sales. He was paroled in 2009 and his most recent sentence ended in February 2012, according to the Kansas Department of Corrections. Turner will appear in Douglas County District Court on Wednesday.
Reporter Stephen Montemayor can be reached at 785-832-7160 or smontemayor@ljworld.com.
Copyright 2018 The Lawrence Journal-World. All rights reserved. This material may not be published, broadcast, rewritten or redistributed. We strive to uphold our values for every story published.