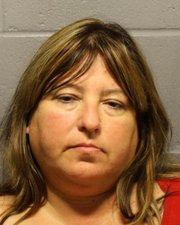 April Oakes, a 33-year-old Lawrence woman charged with multiple counts of distributing cocaine, pleaded not guilty Tuesday in Douglas County District Court.
She appeared in court with her attorney, James Rumsey, for whom she also works as a legal secretary. She was charged in August 2013 with two counts of distributing cocaine and two counts of using a communication device to distribute a controlled substance. According to a Lawrence police offense report, an investigator seized one gram of crack cocaine from Oakes on April 12, 2013. Oakes has been out of jail since August on a $10,000 bond.
After entering Oakes' plea, Rumsey requested a jury trial, which Judge Peggy Kittel set for Aug. 13. The parties will return to court May 9 to discuss the defense's request to subpoena business records of the confidential informant involved in the investigation.
Copyright 2018 The Lawrence Journal-World. All rights reserved. This material may not be published, broadcast, rewritten or redistributed. We strive to uphold our values for every story published.