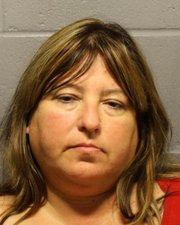 A 33-year-old Lawrence woman will be arraigned in Douglas County District Court next month on multiple charges of distributing cocaine.
April Christine Oakes was charged in August 2013 with two counts of distributing cocaine and two counts of using a communication device to distribute a controlled substance. Defense attorney James Rumsey, for whom she also works as a legal secretary, is representing Oakes.
On Friday, Rumsey was out of the country and unavailable for comment, according to an employee of his office. Oakes, meanwhile, could not be reached for comment.
After a two-day preliminary hearing earlier this month, Douglas County District Judge Peggy C. Kittel dismissed a charge of possessing cocaine without a drug tax stamp and scheduled Oakes to return to court on Feb. 18 to be arraigned.
Oakes is accused of committing the offenses on April 12, 2013. According to a public offense report completed by the Lawrence Police Department, one gram of cocaine was seized from Oakes in a parking lot in the 1700 block of Massachusetts Street that afternoon.
Oakes was arrested on Aug. 5 and later released from Douglas County Jail on a $10,000 bond.
Copyright 2017 The Lawrence Journal-World. All rights reserved. This material may not be published, broadcast, rewritten or redistributed. We strive to uphold our values for every story published.