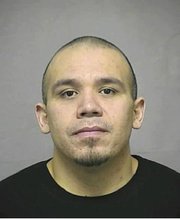 A Topeka man was sentenced to seven years in federal prison on Monday for his role in a drug-related robbery at a Lawrence McDonald's last June, according to U.S. Attorney Barry Grissom's office.
As part of a plea agreement, Mario A. King, 35, pleaded guilty to one count of unlawful possession with a firearm in furtherance of armed robbery.
Lawrence police were dispatched to reports of a shooting at McDonald's, 4911 W. Sixth St., around 3 p.m. June 1. It was later determined the incident was a drug-related robbery. When officers arrived, according to police, the four men later charged in the case were gone, and investigators interviewed witness Jon Crawford, 31, from Topeka.
In court June 25, Crawford said he was at the McDonald's to sell two pounds of K2, a synthetic marijuana product, to one of the defendants when some of the others tried to rob him at gunpoint.
Douglas County prosecutors charged Anthony Foster, 30, of Minneapolis, Kan., with arranging that alleged drug deal. Crawford, who was granted immunity from state and federal prosecution to testify, told the court Foster called him June 1 asking to buy three pounds of K2, which has been criminalized as a controlled substance by the federal government.
According to narrative from King's plea agreement, Crawford planned to sell Foster about two pounds of K2 for $2,000. When he arrived at the McDonald's parking lot, as agreed, Crawford found Foster with King. King then entered Crawford's vehicle, sat in the front passenger's seat and attempted to remove a long-barreled revolver from his waistband, Crawford said.
The plea agreement indicates Crawford dove into the vehicle and punched King in the face. King then drew the firearm, which was later revealed to be a .357 revolver, and pointed it at Crawford. While Crawford fought with King for control of the weapon, Crawford said he was struck by 39-year-old Topeka resident Jesse J. Forbes Jr., who is set for jury trial May 19. Crawford was eventually able to open the vehicle's passenger door, run into the McDonald's and make contact with employees inside.
King was initially charged with aggravated assault, criminal possession of a firearm, a misdemeanor count of unlawfully seizing a vehicle, and two felony drug counts related to an alleged attempt to buy synthetic marijuana. If King had been convicted on the drug charges, he could have faced up to 17 years in prison.
At the time of the robbery, King was on parole after spending nearly three years in Kansas prisons for involuntary manslaughter in the 2008 death of a 20-year-old man in Topeka.
Copyright 2018 The Lawrence Journal-World. All rights reserved. This material may not be published, broadcast, rewritten or redistributed. We strive to uphold our values for every story published.