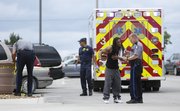 Lawrence crime, fire, courts coverage
Have a tip?
Contact Journal-World reporter Caitlin Doornbos:
Lawrence police are investigating a 3 p.m. shooting in the parking lot of a Lawrence McDonald's at 4911 W. 6th St.
Shots were fired during a disturbance in the restaurant's parking lot about 3 p.m., said Sgt. Trent McKinley, a Lawrence Police Department spokesman. A 31-year-old man suffered a minor injury to his hand in the incident but was not shot. He declined medical treatment at the scene, McKinley said, and detectives were interviewing him immediately after the incident.
Several people believed to have been involved in the incident had left the scene before police arrived, McKinley said.

Investigators continued to work the crime scene late Saturday afternoon, while others looked at video from the restaurant's security cameras. Police are looking for suspects but have not yet released details.
Initial reports from emergency dispatch indicated that police were looking for a red Oldsmobile carrying suspects that could be armed and might have been traveling west from Lawrence on U.S. Highway 40. A black Dodge Charger with Shawnee County plates that was involved in the incident remained at the scene.
The restaurant remained open, and employees declined to comment on the incident.
Anyone with information about this crime is asked to call the Lawrence Police Department at 785-832-7509 or CrimeStoppers at 843-TIPS(8477)
Copyright 2018 The Lawrence Journal-World. All rights reserved. This material may not be published, broadcast, rewritten or redistributed. We strive to uphold our values for every story published.