A $1 million gift to Kansas University will establish a new scholarship program in the business school, KU announced Thursday.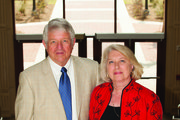 KU alumnus Jerry Jennett and his wife, Kay, of Valdosta, Ga., donated the money to create the Jerry and Kay Jennett Finance Scholars Program, which will provide support for students in the school's existing Finance Scholars Program.
Jerry Jennett, a native of northeast Kansas who earned his bachelor's degree in business from KU in 1963, is the CEO of Georgia Sulfur Corp., which manufactures milled agricultural sulfur for the fruit industry. Kay Jennett is a commercial artist and a graduate of the Columbus College of Art and Design, according to KU.
"I had a wonderful time as a student," Jennett said by phone Thursday. "I had help and I understand that there's other people that need help, so if I could be part of helping people, then that just makes me feel good."
Neeli Bendapudi, dean of the KU School of Business, said in a KU news release that the scholarship fund would "take the program to new heights, allowing more students to explore careers in finance, preparing them for success in their chosen professions."
Jennett said he never received a scholarship while attending KU, instead getting by through various odd jobs — working in a kitchen, painting houses, delivering appliances — and some help from his father.
"I never applied for one, never knew about them," he said. "I don't know that scholarships were a big deal back in the late '60s, early '60s. They may have been, but I think maybe only the very, very top students got them."
He said after college he followed his father into the retail industry. But as a recent college graduate often working nights and weekends, he sought something different.
"It wasn't any fun and so I went and found something else to do," he said with a laugh.
This is the second scholarship the Jennetts have established at KU. In 2010 they gave $200,000 for a business school scholarship for undergraduates who work for, or hold internships with, KU Athletics.
Copyright 2018 The Lawrence Journal-World. All rights reserved. This material may not be published, broadcast, rewritten or redistributed. We strive to uphold our values for every story published.