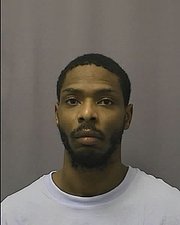 The 29-year-old Lawrence man accused of shooting another man to death at his apartment earlier this month returned to court Tuesday to schedule a May preliminary hearing.
Dustin D. Walker is accused of killing Patrick Roberts, 39, on March 8 at Roberts' home in the 2400 block of Cedarwood Avenue.
On Tuesday, District Judge Paula Martin scheduled a May 6 preliminary hearing for Walker, who is being charged with first-degree murder and is in jail on a $1 million bond.
According to police, several relatives who lived with Roberts were present at the time of the early-morning shooting. Roberts later died after being taken to Lawrence Memorial Hospital.
Police think at least two people participated in the disturbance, which ended when Roberts was struck in the chest by one of several shots fired. Walker and another man were detained a little more than an hour later and the other man was released after questioning.
On Tuesday, Kim Murphree, a Lawrence Police spokeswoman, did not have anything new to share on the investigation. Murphree said detectives are still following up on leads and still ask anyone with information to call the department's investigations division at 830-7430.
Copyright 2018 The Lawrence Journal-World. All rights reserved. This material may not be published, broadcast, rewritten or redistributed. We strive to uphold our values for every story published.