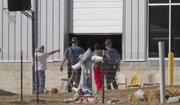 A 46-year-old Lawrence Community Shelter staff member suffered life-threatening injuries after reportedly being stabbed by a shelter resident Thursday afternoon.
Loring Henderson, the shelter's executive director, declined to identify the victim, the kitchen manager, Thursday but said he is expected to survive.
According to the Douglas County jail booking log, Christopher Jamond George McKay, 21 of Kansas City, Mo., was arrested in connection with the incident.
In a statement released Thursday evening, Sgt. Trent McKinley, a Lawrence Police Department spokesman, said the victim underwent surgery and remains hospitalized at a Kansas City-area trauma center.
McKinley said the suspect was arrested on suspicion of first-degree attempted murder.
Lawrence police responded to a call of a stabbing just after 3 p.m. at the shelter at 3655 North 1360 Road. There they found the man stabbed in the throat and the suspect inside the shelter's dining hall, McKinley said. The stabbing occurred during a dispute.
Police originally reported the victim to be a resident.
"This is my worst day," Henderson said of his tenure, which began in 2005 and is soon coming to an end. "This is not something that happens at the shelter. Everybody, even the fella who did the stabbing is a victim, if you will.
"Everybody's harmed and it's disturbing for all the residents of the shelter and the staff."
McKinley said several other residents and staff intervened to stop the attack. The suspect was later taken to Lawrence Memorial Hospital for treatment, McKinley said. No other injuries were reported after the incident.
Henderson commended staff and residents for their actions in the moments between the stabbing and the arrival of emergency personnel.
"That was heartwarming," he said.
Copyright 2018 The Lawrence Journal-World. All rights reserved. This material may not be published, broadcast, rewritten or redistributed. We strive to uphold our values for every story published.