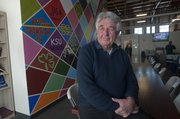 After helping transform the way the homeless are sheltered in Douglas County, Loring Henderson, the longtime director of the Lawrence Community Shelter, has announced his plans to retire.
Henderson said he will stay on as the shelter's executive director until its board finds his replacement.
"Thank you to the Lawrence community and everyone who has supported the shelter," he said.
Henderson, 75, has been director since the shelter opened in 2005, but he has been active in social services in Lawrence and beyond much longer than that.
Henderson was born in Lawrence, but soon after his family moved to Kansas City. After serving in the U.S. Navy, Henderson lived in Washington, D.C., where he started a retail shoe business that he later sold and managed several public-policy institutes. Along the way, he volunteered at local soup kitchens and other organizations dedicated to the homeless and disabled.
"We joke that Loring's the most interesting man in the world," said Elizabeth Stephens, director of family programs at the Lawrence Community Shelter, who, turning serious, noted Henderson's extreme calm and ability to make staff members feel like family. "Loring has been much more than a boss. He's been a mentor. He's been a friend. He's created an atmosphere that gives us the freedom to develop and design programs ... There can never be another Loring."
Henderson, a Kansas University graduate, moved back to Lawrence in 1993, taking a job running a Kansas City social service agency. While he retired from that position 11 years later, he didn't stay inactive for long. "I wasn't ready to retire," said Henderson, who doesn't have kids and isn't married. "I had too much energy and good health and time."
So he started serving on the board of the Lawrence Open Shelter, which had opened in response to The Salvation Army's zero-tolerance policy against alcohol use, and later became its director. He quickly realized the shelter was serving the same population as the Community Drop-in Center, where people could stop by during the day to get out of the cold or have a cup of coffee. So, in 2005, the two organizations merged to become the Lawrence Community Shelter. Henderson was named its director. It has been open every night since.
"Loring Henderson is just a very compassionate, dedicated human being who has supported the needs of the homeless for years and years," said Hilda Enoch, founder of the Lawrence Coalition for Homeless Concerns, who called his departure "a big loss."
Henderson eventually helped the shelter stay open around the clock and increase its capacity from less than two dozen to 125. He led the charge to move into a more spacious location in southeast Lawrence, near the Douglas County Jail. He has worked to expand its program offerings, including job training and sheltering families after another local emergency shelter closed. He has assisted countless people find permanent housing and employment.
As director, Henderson would essentially be on call 24-7, whether to pick up a shelter guest who had worked the late shift or to drive a client to a medical facility in Topeka in the middle of the night.
"He is a saint," said John Tacha, who has long served on the Lawrence Community Shelter's board of directors. "He's one of those rare people who is above self."
Tacha said that the new shelter might as well be called "the Loring Henderson building" because "most of the people who gave money probably knew Loring or had been touched by Loring in some way."
"Loring has stuck it out," said City Commissioner Bob Schumm. "He brought the shelter from its very beginnings through the rocky, tough part to being in a position that is very sustainable for the future. He worked very hard at that."
While the issue of homelessness is by no means solved, Henderson said the community's attitude about the topic has changed tremendously over the past 10 or more years.
"I think we've come to recognize that we have an issue and it's complicated and it affects a lot of people," he said. "Lawrence is a really generous and supportive community. There's been a lot of public education that's occurred in the last 12 years on this issue locally."
Moving forward, he said he would like to see more progress on treating mental health problems (a big cause of homelessness) and increasing access to affordable housing in Lawrence.
Henderson, an active Quaker, doesn't really have a lot of hobbies outside of work. "I like to ride a bicycle, although I haven't in recent years very much," he said. "Basically I'm dedicated to my job."
On the issue of homelessness, he said: "It's just been my niche in life, my calling."
Copyright 2018 The Lawrence Journal-World. All rights reserved. This material may not be published, broadcast, rewritten or redistributed. We strive to uphold our values for every story published.