A Lawrence man arrested Saturday has been charged with first-degree murder in the shooting death of a man at his apartment.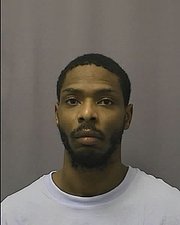 Dustin D. Walker, 29, was charged today in Douglas County District Court before District Judge Robert Fairchild, according to the District Attorney's Office.
Walker is being held on a $1 million bond. His next court appearance will be March 18 before District Judge Kay Huff.
Sgt. Trent McKinley, a Lawrence Police Department spokesman, said police arrested Walker shortly after 9 a.m. Saturday. Investigators had detained two people for questioning after police were sent to the 2400 block of Cedarwood Avenue for a reported shooting at 3:10 a.m.
McKinley said the victim, Patrick Roberts, 39, died after being taken to Lawrence Memorial Hospital.
Copyright 2017 The Lawrence Journal-World. All rights reserved. This material may not be published, broadcast, rewritten or redistributed. We strive to uphold our values for every story published.