Photo Gallery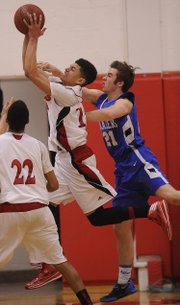 LHS boys vs. Gardner-Edgerton
Box score
LAWRENCE (62)
Justin Roberts 3-8 8-11 14, Connor Henrichs 2-3 0-0 5, Price Morgan 5-12 5-9 15, Anthony Bonner 7-13 1-3 17, Fred Brou 1-1 0-0 2, John Barbee 3-8 3-6 9, Anthony Harvey 0-1 0-0 0. Totals 21-46 17-29 62.
GARDNER-EDGERTON (45)
Devan Toomey 0-4 1-2 1, Brett Wright 2-8 3-5 8, Will Cook 2-4 5-6 9, Jacob Haywood 3-4 0-1 6, Joshua Lang 2-10 1-3 5, Kyle Hultgren 7-15 2-3 16. Totals 16-45 12-19 45.
Gardner-Edgerton 9 14 4 18 — 45
Lawrence 14 7 16 25 — 62
Three-point field goals: Gardner-Edgerton 1-12 (Wright); Lawrence 3-10 (Bonner 2, Henrichs). Fouled out: Hultgren. Turnovers: Gardner-Edgerton 15, Lawrence 13.
-->
-->
Lawrence High's boys basketball players were happy with their 62-45 victory over Gardner-Edgerton in the first round of Class 6A sub-state Thursday at LHS. They cherished it so much more after finding out one of their coaches is fighting for his life.
Lions coach Mike Lewis told his team after the game that assistant coach Kermit Aldridge took a turn for the worse in his battle with cancer and was moved into hospice care.
"I know coach would have wanted us to go out there and play hard like we did," sophomore Price Morgan said. "I know he would have been proud of us in the second half. It's just tough. Someone I've come so close to between football and basketball … he's been such a great mentor to me. I can't say enough good things about him. It's just real tough."
Aldridge has coached at LHS the last four years and is the head junior-varsity coach. He was diagnosed with a rare form of cancer last spring and has gone through ups and downs in his fight. He was able to attend an LHS home game on Feb. 21.
"We have to sit together as a family and get through stuff like this," said Lewis, who found out at 1:30 p.m. but decided to wait until after the game to inform both the players and other assistant coaches. "It's not easy, and it takes everybody. It definitely will take the parents, the coaches and the players to stick together.
"The boys talked in the locker room that they want to use it as motivation, and that's exactly what coach Aldridge would've wanted for us to do."
The Lions (17-4, ranked No. 5 in 6A by the Kansas Basketball Coaches Association) struggled in the first half, but junior Anthony Bonner drilled a three-pointer to spark an 11-0 run to end the third quarter. They switched into a full-court press after Bonner's three-pointer and forced five consecutive turnovers.
LHS scored on its final four possessions as junior Ben Rajewski tipped a steal to Bonner, who ran past the defense for a layup before sophomore Justin Roberts made layups on back-to-back possessions as he dribbled around defenders. Junior John Barbee capped the run with a steal and a powerful coast-to-coast dunk.
"We sputtered a little bit, but we got our heads straight," said Bonner, who scored a game-high 17 points and added seven rebounds. "I think the press really got them out of their game, and we did a good job of converting."
Gardner-Edgerton (10-11) pulled within five points with under five minutes remaining, but Barbee answered with a layup on the next possession. A minute later, Roberts found Bonner under the hoop for a layup before Bonner added a jumper afterward to stretch the lead to 51-40 with 2:55 remaining.
"I just think we finally got some momentum going our way and then we took off with it," Lewis said.
The Lions will face Olathe East (17-4, ranked No. 7) in the sub-state finals at 7 p.m. Saturday at Olathe East.
Copyright 2018 The Lawrence Journal-World. All rights reserved. This material may not be published, broadcast, rewritten or redistributed. We strive to uphold our values for every story published.