Photo Gallery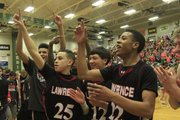 LHS boys at Free State
Even on a unit with the star power of Lawrence High's boys basketball team, it takes players perfectly suited for their roles to turn a good team into a great one.
We'll see just how transcendent the Lions are in the weeks to come, now that the regular season is over, but they sure seemed on their way to something extraordinary Friday night at Free State, where they won the City Showdown, 68-61.
Sophomore LHS point guard Justin Roberts closed the deal in the fourth quarter, with 13 of his game-high 24 points, after the Firebirds tied the game at 45 in the final minute of the third. And junior guard Anthony Bonner added 13 points without getting to the foul line like he usually does.
But there is no way Lawrence could have swept its primary rival this season without a pair of less-heralded starters carrying the load on offense for separate stretches. The standout guys in black road jerseys in the first and third quarters were sophomore forward Price Morgan and senior guard Connor Henrichs.
When the LHS offense needed some kind of spark to keep up with the white-hot shooting hand of Free State senior Cole Moreano — who scored 13 of his 22 points in the third and drilled three from behind the arc in the final 2:45 of the quarter — Henrichs had his most effective stretch. The 6-foot complimentary guard, known for his defense on the basketball court and his array of skills on the soccer field, scored in the paint, hit a three-pointer and knocked down a pair of free throws, accounting for seven of Lawrence's 12 points.
Lions coach Mike Lewis can't talk about Henrichs, who finished with 13 points on 3-for-5 shooting, without using the word steady. The steely senior isn't rattled easily, and while he spends most of his time facilitating and defending, Henrichs won't hesitate to pounce on a big opportunity. Plus, because Henrichs and Anthony "Bootsy" Riley are the team's only seniors, Lewis never doubts his ability to keep his youthful, talented teammates in line.
"We trust him. He's a leader," Lewis said. "He's heady, and he's a competitor. He's what a senior should be."
It can't be easy for a player to keep his composure in the wild environment of the rivalry game. Cool to the core, Henrichs shrugged off his ability to do so.
"It was my last regular-season game, it's a huge rivalry, so I'm just amped up on adrenaline — we all are," he said. "I was able to get to the basket on a few plays, make a few shots. We stuck together as a team and were able to finish."
Lawrence (16-4, ranked No. 4 in Class 6A) concluded the win like veterans, because a first-year starter, the 6-foot-3 Morgan, opened it with furious activity in the paint. He scored seven of Lawrence's first 15 points on his way to a 13-point, four-rebound night. Those early minutes allowed the high-energy forward to get comfortable and move past any distractions.
Between Morgan's presence inside, Henrichs' leadership and junior guard John Barbee's defense on and off the ball (six steals), LHS had impeccable compliments to Roberts and Bonner against the Firebirds.
"We're a team," Lewis said. "There's no getting around it."
Copyright 2018 The Lawrence Journal-World. All rights reserved. This material may not be published, broadcast, rewritten or redistributed. We strive to uphold our values for every story published.