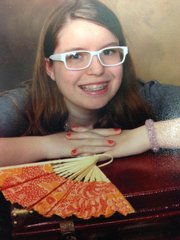 Mersadie "Sadie" Walker has always been an animal lover.
She volunteers regularly at the Lawrence Humane Society and rescues as many cats and dogs as her parents will allow. Sadie has always wanted to be a veterinarian or a dog groomer someday — just anything to do with animals, her older sister, Megan Walker, said.
In an era when teens get lost in technology, Sadie instead spends her free time caring for creatures and teaching dogs tricks. The fruits of the gentle girl's patience and determination can be seen in the circus tricks of her dog, Frisky.
"She sees these crazy YouTube videos of tricks and says to herself, 'I can teach a dog that,'" Megan Walker said. "She's taught her dogs begging techniques, little dance moves, how to sit, stay and play dead. A lot of kids don't take time to do that."
Megan Walker said the soon-to-be Lawrence High School senior has always been a girl too full of compassion. The only time she's ever caused harm to an animal was when she was 2 years old and tried to snuggle her pet goldfish.
"She just wanted to hold (the goldfish) and pet it," Megan Walker said. "That's the thing about Sadie, she just wants to love everything."
It was that same caring spirit that led her on June 19 to the middle of East 1900 Road, where 36-year-old Elisabeth L. Mason, of Lawrence, struck Sadie with her 2014 Chevy Cruze, leaving Sadie with life-threatening injuries. A turtle had been poking across the roadway and Sadie had gotten out of the passenger seat of her mother's car to help the animal make it to safety.
Sadie suffered leg injuries, pelvic injuries and had to have heart surgery this week. The Walker family will not release many details of Sadie's condition because of the ongoing investigation into the accident, but they say she's doing better with each passing day.
The turtle came out unscathed, the knowledge of which lifted Sadie's spirits in the Intensive Care Unit, Megan Walker said.
Mason was arrested at the scene of the accident on suspicion of driving with a suspended license and failure to provide proof of liability insurance. Douglas County District Attorney Charles Branson's assistant, Cheryl Kunard, said Wednesday that the case against Mason is under review as the investigation of the incident continues.
Because of the support Sadie has received from relative strangers, Megan Walker said, she doesn't feel so alone.
"There's always something nice that comes out of the bad. People are showing her that outpouring of love. People are saying 'this happens, we go out and we do this,'" Megan Walker said. "They say she's part of the 'turtle-saving club.'"
Sadie's condition has improved since last week from critical to fair. Megan Walker said her sister has been talking and laughing with her family from her hospital bed at Overland Park Regional Medical Center, flashing her braces-adorned smile to visitors.
"When you watch her go from critical condition to stable, you thank God and your blessings," Megan Walker said. "She's making leaps and bounds as far as her recovery. We're confident that this will be a full recovery."
That recovery may not come for some time, though. Doctors have not set a release date for Sadie, and Megan Walker said it is unclear whether she will be ready to return to school in the fall.
Lawrence Bank set up a benefit fund Wednesday to help pay for Walker's medical bills. A news release by the bank said the funds will help offset Walker's medical expenses along her "long road to recovery."
Contributions to the fund can be made at any Lawrence Bank location or send donations to Mersadie L. Walker Benefit Fund, c/o Lawrence Bank, P.O. Box 4530, Lawrence KS 66046.
Copyright 2018 The Lawrence Journal-World. All rights reserved. This material may not be published, broadcast, rewritten or redistributed. We strive to uphold our values for every story published.