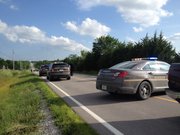 A 17-year-old Lawrence girl is in critical condition in a Johnson County hospital after being struck by a car Thursday evening as she was trying to help a turtle off a roadway in rural Douglas County.
Lt. Steve Lewis, a spokesman for the Douglas County Sheriff's Office, said the accident occurred at 5:28 p.m. on the 900 block of East 1900 Road, southeast of Lawrence. The girl, Mersadie L. Walker, was taken to Overland Park Regional Medical Center. Lewis said Friday morning that the girl is in the intensive care unit.
He said the victim was a passenger of a northbound vehicle, which stopped so she could assist a turtle in the roadway. A southbound 2014 Chevy Cruze, driven by Elisabeth L. Mason, 36, of Lawrence, then struck the pedestrian, Lewis said.
On Friday afternoon, the girl's mother and father released a statement.
"She was doing something children often do — being kind and compassionate to an animal, which is her nature. She remains in critical condition in ICU at Overland Park Regional Medical Center, but we are grateful that she is continuing to improve," said the statement signed by Nancy and Grady Walker.
"We would like to sincerely thank our friends, family and the community for the outpouring of love and support during this difficult time. We feel your prayers and support and could not get through this without you all."

Law enforcement discovered that Mason was driving with a suspended license and that her plates were not assigned to the vehicle she drove, Lewis said. She was arrested at the scene and booked into jail on suspicion of driving while suspended and failure to provide proof of liability insurance.
Lewis said Friday that Mason had bonded out of jail and has a first appearance in court scheduled for July 3.
Copyright 2018 The Lawrence Journal-World. All rights reserved. This material may not be published, broadcast, rewritten or redistributed. We strive to uphold our values for every story published.