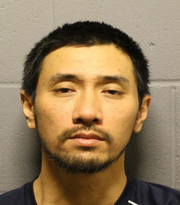 Suwamet Hanratanagorn, 37, who pleaded guilty to breaking into a Dillons pharmacy and stealing prescription drugs, was sentenced to 36 months probation as his family watched court proceedings Friday.
After reviewing a drug and alcohol assessment submitted by the defense, District Judge Peggy Kittel told Hanratanagorn that she gave him probation rather than jail time due to his supportive wife and children and so he could seek help at a local rehabilitation center for his drug problem.
"It is apparent this crime occurred because of your addiction," Kittel said to Hanratanagorn. "Treatment is available in the community and the support of your family and the responsibility of your wife and kids will promote offender reformation."
When addressing to the court, Hanratanagorn had tears in his eyes and apologized to his family for his crime.
"I've shamed my name and self," Hanratanagorn said. "I want the opportunity to get that honor back.
Hanratanagorn had been in jail for 96 days since his arrest. He was detected in the ceiling of the Dillons at 1015 W. 23rd St. after an employee heard noises coming from the ceiling and alerted a security guard, who called the police. Hanratanagorn was found in the ceiling after officers search for an hour.
Hanratanagorn will have to pay nearly $7,000 in restitution to Dillons to make up for the drugs stolen and damaged caused.
Hanratanagorn was released from jail Friday to join his family. While leaving the courtroom with the guard, he mouthed "I love you" to his wife and children.
Copyright 2018 The Lawrence Journal-World. All rights reserved. This material may not be published, broadcast, rewritten or redistributed. We strive to uphold our values for every story published.