Photo Gallery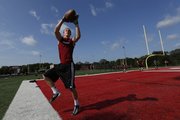 Lawrence High 7-on-7 football scrimmage
Images from the Lions' 7-on-7 football scrimmage against Blue Valley during football camp
After a team camp at Emporia State last weekend and 7-on-7 drills against two other teams, one thing is clear for Lawrence High's football team.
The Lions will have a strong defense next year.

They faced Blue Valley and Tonganoxie without pads or helmets in 7-on-7 drills — offenses and defenses without linemen — on Wednesday morning at LHS. On one play, a Blue Valley quarterback dropped back and lofted a pass over the middle.
The intended target, a Blue Valley receiver, was blanketed by cornerback Ivan Hollins, and safety Dearion Cooper stepped in front of both for the interception.
There were countless other plays from the LHS secondary that ended with similar results. The Lions' defense also played well when they were in full pads and faced about 10 teams Sunday and Monday at a team camp at Emporia State.
"Driving home Monday night from Emporia, we were head and shoulders above where we were last year," LHS coach Dirk Wedd said. "The Sunflower League, you've got to be so physical. You always worry about that as a coach. At Emporia, we played some really good football teams, and the physicality of it didn't bother us. We were right there with them. That's kind of what I take away from where we are at right now."
After the first day of the Emporia team camp, Wedd received a few phone calls from other coaches about his team playing a little too physically for their liking.
"It went good. We learned a lot," junior tight end and linebacker Price Morgan said. "A lot changes when you put the pads on and start hitting — especially the first day it got kind of chippy, but, I mean, that's football. Overall, I thought it went really well. We still have some things to work on, but I'm excited."
"It wasn't so much the chippy part," Wedd added. "We had some big hits, and some people didn't like that. Like I told (the players), I'd rather have someone call me up and say my team is playing too hard and too physical than for us to just sit back and take it. That's a huge step in the right direction."
During the 7-on-7, the Lions showed off a tenacious secondary. Hollins kept up with receivers and also showed strong bump-and-run coverage. Cooper shut down the middle of the field with pass breakups and interceptions, while JD Woods also showed his speed at cornerback. Other defenders also made short passes extremely difficult for opposing quarterbacks.
On offense, junior Alan Clothier and senior Nyle Anderson split reps at quarterback, and both threw the ball well and showed mobility rolling out of the imaginary pocket. Anderson also went through plays as a receiver, and Clothier found him in the right corner of the end zone on a go-route for a would-be touchdown that pumped up the entire team.
"I was pretty happy," Clothier said about the 7-on-7 drills. "We're coming together. We have a lot to work on our passing game. It's not all there right now. But we'll get there, and we'll get it down by our first game. Our defense was just outstanding, like always. We're going to have a really strong defense."
Wedd said he was "tickled" with the defense at the Emporia camp, with Amani Bledsoe, Nathan Koehn and Cole Greenwood dominating the line of scrimmage. Morgan and Tanner Green also impressed as inside linebackers.
The players knew it was the last time they were going to put on the pads this summer, and they wanted to leave an impression.
"When you put the pads on, that's really when you can see who can play football," Morgan said. "You can have anybody running, catching balls, doing whatever. But once you put the pads on and someone cracks you, how are you going to respond to that? That's just kind of a gut check. We've been working really hard to get physically stronger and mentally stronger so when the pads come on, we're ready to go."
Copyright 2018 The Lawrence Journal-World. All rights reserved. This material may not be published, broadcast, rewritten or redistributed. We strive to uphold our values for every story published.