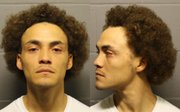 After an alleged domestic battery incident on May 25 involving a witness to his crime, a 29-year-old Lawrence man who had been out on bail in an attempted first-degree murder case has been taken back into custody.
On Monday, District Judge Sally Pokorny bound Phillip Howard over for trial on charges that included aggravated battery and felony criminal damage to property in connection with a Jan. 18 incident at Peppertree Apartments, 3300 W. 22nd St., which ended in a neighbor being struck by bullets that passed through his door.
Though Howard had made bail, he was booked into Douglas County Jail Tuesday after Pokorny ordered him back into custody because he had contacted a witness in his case, which violated conditions of his bond.
Howard also picked up a new charge of domestic battery after a May 25 incident. The state intends to seek a domestic violence designation in the case, according to the Douglas County District Court.
Howard was first arrested on Jan. 18 after police responded to a dispute that took place inside an apartment and in a hallway outside the apartment. According to documents filed last month by the Douglas County District Attorney's office, Howard allegedly fired a handgun at another person with the intent to commit murder. Meanwhile, a bullet passed through the door of neighbor Martin Gibson, 33, who was struck.
In addition to attempted first-degree murder, aggravated battery and domestic battery, Howard is also charged with felony criminal damage for allegedly damaging Gibson's apartment door and a window, fence, gutter and drain pipe at Peppertree Apartments.
A trial date of Aug. 27 was set and Howard is due back in court on July 28 for a status conference and motions hearing.
Copyright 2018 The Lawrence Journal-World. All rights reserved. This material may not be published, broadcast, rewritten or redistributed. We strive to uphold our values for every story published.