Photo Gallery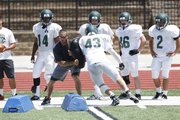 Free State football summer scrimmage
After spending the last week working in non-contact drills, Free State High's football team finally put on full pads and went up against an opposing team on Thursday.
The Firebirds participated in the Baker University football camp Thursday morning and afternoon, held at FSHS. Shawnee Mission East, the Class 6A state runners-up, St. Thomas Aquinas and Shawnee Heights were also at the camp.
The Firebirds scrimmaged against all three teams and took away plenty of positives and a few negatives for the remainder of the summer.
However, the biggest positive might have just been for the players to get a taste of what's to come this fall.
"It's awesome. It's a lot of fun," senior Scott Frantz said. "You forget how much fun football is until you strap on the pads. It was just a blast."
The Firebirds usually travel to an out-of-state camp during the summer, but chose to have Baker host one on their field because of costs. The camp was also held on Tuesday, but Free State was the lone school participating.
After scrimmaging against each team in the morning, Free State only played against Shawnee Heights in the afternoon, and did several series with both the varsity and junior varsity offenses and defenses. Freshmen players also practiced on their own.
"I was extremely happy," FSHS coach Bob Lisher said. "Our guys came out here and they got a lot of snaps in. They're going to see a lot of film, and we got a lot of corrections to make, but the great thing is, we get to do it now."
Throughout the day, the offensive and defensive lines were drilling each other but it was mainly a non-tackling session with coaches stopping play once a runner advanced a few yards past the line of scrimmage or quickly after a pass was completed.
It was still enough time to see what plays worked, and allowed players to gain experience at game speeds.

"I thought it was great," said Jason Thoren, assistant head coach and defensive coordinator at Baker who helped run the camp. He also played football at Lawrence High and at Kansas University. "We got a lot of good reps. … I wanted them to come in and be able to get better but be healthy at the end of it. That was the main goal. "
For the Firebirds, the camp allowed them to see different formations. For example, the offensive line went up against defenses that had four down linemen, instead of the usual three that Free State's defense uses.
They also had a chance to face the top offensive and defensive units from other teams.
"It was a really good day out here," senior Shane Hofer said. "Finally, it's been forever since (we hit). Tuesday we had it, but to go against someone who's not our teammate is a lot better. It gets more experience for guys who will play in the season.
"Everyone had a lot of reps, even the younger guys did," Hofer added. "A lot of people got a lot of experience with Shawnee Mission East, who is a real good team in the Sunflower League."
Now the Firebirds will go back to non-contact work throughout the rest of the summer, but they were happy with what they accomplished during the camp.
"Obviously, we've got a lot of stuff to work on," Frantz said. "You can always get better. We got a lot of guys who are competing for some spots on the offensive lines, so we're all competing, we're all trying hard. But it was good. I felt good."
Copyright 2018 The Lawrence Journal-World. All rights reserved. This material may not be published, broadcast, rewritten or redistributed. We strive to uphold our values for every story published.