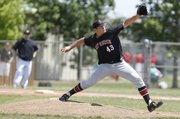 Lawrence High pitcher Bryce Montes de Oca looked at his cell phone Saturday afternoon and didn't understand why he was getting a congratulatory text message from his coach.
"He said, 'For what?'" LHS coach Brad Stoll said.
A few minutes later, Montes de Oca's cell phone rang.
He stared momentarily at the Chicago area code, and then it hit him.
The 6-foot-7 right-hander was selected by the Chicago White Sox in the 14th round of the Major League Baseball amateur draft.
A year ago at this time, Montes de Oca was recovering from Tommy John surgery in April, 2013.
This spring, back to full health with a new elbow ligament, he lit up the radar gun with his 95-mph fastball, dazzling scouts.
"When you watch him and see the fastball coming out the arm, you can't just walk away from that," Nick Hostetler, White Sox assistant scouting director said. "Unfortunately, the way it worked out with the timing of the draft and for him post-surgery, probably not the optimal time."
The most important thing, Montes de Oca said, is that he's finally healthy.
"It's been a very long journey," he said. "This time last year, I couldn't even throw. Now I'm picked by the White Sox."
Baseball officials believe Montes de Oca will choose to go to college and pitch at the University of Missouri next season rather than sign a pro contract. Montes de Oca said he's still undecided.
"Obviously, we understand his wishes and the amount of compensation he was looking for," Hostetler said. "Percentage is probably pretty high that he does (go to Missouri), but in this day and age, you can never say never."
If he wants to turn pro, he has a July 18 deadline, imposed by MLB regulations. If he opts for Missouri, he will have to wait three years before he's eligible again for the draft.
"It's a wonderful opportunity," Montes de Oca said. "Tons of people, I'm sure, wish they were in my situation now. I'm weighing the options. Either way, it's good options."
Despite being projected as a top-five-round talent, Montes de Oca likely won't be offered a contract exceeding $100,000. After the first 10 rounds, any signing bonus higher than $100,000 goes toward the team's allotment to spend on their first 10-round picks.
The White Sox, according to Baseball America, have a signing-bonus pool of just more than $9.5 million to spend on their first 10 picks, though their first-round pick is expected to sign for around $6 million.
Montes de Oca confirmed he received a few phone calls Friday morning from teams asking if he would sign for a pre-determined bonus over going to college. It's a common practice for teams to do so, since they are limited by the amount of money they can spend on picks in the first 10 rounds.
"When you see a guy that talented taken that low, he's almost never going to be signable," draft expert Jim Callis wrote on MLB.com. "I believe Montes de Oca was looking for a seven-figure bonus, and it's hard to scrape up that kind of money in the 14th round with the bonus rules being what they are. I think he's headed to Missouri."
Montes de Oca, considered a top-100 prospect by most major baseball publications, said he was pleased despite not being selected earlier in the draft.
"I did what I could do during the spring," he said. "It put me in a good position. … I'm happy, especially with everything I went through (junior) year — not being able to play. It's just a good opportunity for me and my family."
Copyright 2018 The Lawrence Journal-World. All rights reserved. This material may not be published, broadcast, rewritten or redistributed. We strive to uphold our values for every story published.