Photo Gallery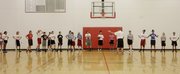 Lawrence High School girls basketball camp
Lawrence High School girls basketball players and their new coach, Jeff Dickson, participated in a summer basketball camp, Thursday, June 5, 2014.
After a four-day team camp, new Lawrence High girls basketball coach Jeff Dickson is impressed with his team.
It takes time, but the Lions are beginning to adjust to his coaching style and his drills.
On Monday, the girls struggled to complete a five-player weave. It's a drill that involves passing and catching on the move and also helps with conditioning. They completed the drill with a lot more ease by Thursday.
"The biggest part is them just getting comfortable in how we do things, the type of drills we do and the points in emphasis that we have," Dickson said. "Every coach is different. Every program is different in terms of what their expectations are. … I saw some light bulbs going off on some things that we wanted to do that are a little bit different than maybe they had done in the past."
About 20 girls were in camp, learning from Dickson and some of his former players. He took Shawnee Mission Northwest to the Class 6A state tournament last year and last month replaced former coach Nick Wood, who left for a teaching and coaching job overseas in Muscat, Oman.
One of the top returners for the Lions is point guard Marissa Pope, who was the only senior in camp and took charge in most of the drills.
"I've been really happy with (camp)," Pope said. "I was excited with the turnout, and we've all been working hard. It was our first time with coach Dickson, and I think everyone adapted really well to him. I was happy with it."
Dickson has game-planned against Pope over the last few seasons, and he's thrilled to have her as a senior leader.
"I've seen Marissa step up in a big way," Dickson said. "I've been able to watch her as a competitor over the last three years and always have been impressed with her. The cool thing about this experience for me is to see first-hand what a great kid she is, what a hard worker she is, how she brings it in every drill and every sprint."
Pope has never shied away from leading a team. She's usually one of the most vocal players, and her competitive spirit spreads to teammates.
"They always told me that was my team because I was the point guard," said Pope, who averaged more than five assists per game last year. "Now, like, I'm the senior, and it's my team. It's weird being the leader now, but I like it. I feel like we can go far this year."
Dickson said sophomore Skylar Drum and junior Alexis Boyd also took leadership roles in camp. Drum started several games at point guard at the end of last season when Pope was sidelined because of a foot injury.
The Lions also had sophomore Olivia Lemus and junior Brook Sumonja returning from last season's varsity rotation and playing well in camp.
Boyd didn't earn many varsity minutes last year, but she wants to step up into a larger role this upcoming season. In the same way, a lot of the Lions will be asked to play different roles and will need to step up for the team to be successful next winter.
"I feel like we're taking baby steps still, but I can see a big difference in our teamwork," Boyd said. "We encourage others. We clap during drills. We're just being supportive. But we'll get there to winning games."
Copyright 2018 The Lawrence Journal-World. All rights reserved. This material may not be published, broadcast, rewritten or redistributed. We strive to uphold our values for every story published.