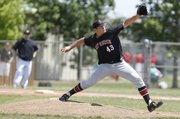 Major-league baseball scouts came in droves to watch Lawrence High right-hander Bryce Montes de Oca pitch this spring. Montes de Oca's 95-mph fastballs, along with his 6-foot-7, 265-pound frame, intrigued every MLB team.
After throwing well all season on limited pitch counts following Tommy John surgery, Montes de Oca will finally learn what those scouts thought of him by where he is selected during the MLB amateur draft, which starts at 6 tonight.
Only the top 74 picks — two rounds and a few compensation picks — will be chosen tonight. The draft continues at noon Friday for rounds 3-10.
Montes de Oca signed a national letter of intent to pitch at the University of Missouri but could forgo that if he signs to play professional baseball.

"It's been a long time coming after having the surgery to working my way back and playing well this year," Montes de Oca said. "I'm excited."
Montes de Oca said he won't be watching the draft and will just wait for a phone call from the team that selects him. He's expected to be taken in the first five rounds, however some injury concerns could lower his status. He missed all of his sophomore year and most of his junior season because of elbow injuries.
"I'm very excited for him," LHS coach Brad Stoll said. "He had some bad luck with the Tommy John surgery and not being able to pitch the season before. I've seen him work very hard to get himself in a position to pitch for his senior year. I think he put himself, hopefully, in position to get his named called (today)."
Baseball America, a top source for the sport's draft news and projections, has Montes de Oca ranked as the 72nd-ranked prospect in the upcoming draft. MLB.com has him slotted at No. 73, and ESPN's MLB insider Keith Law put him much higher at No. 32.
MLB.com writes: "While Montes de Oca has regained fastball velocity, the rest of his game is still a work in progress. He'll show some depth on a 11-5 curveball that may become a slider in pro ball, and he has some aptitude for throwing a changeup, but he's inconsistent with both pitches and his command."
Some teams could also lower Montes de Oca on their draft boards because of signability concerns. Unlike basketball or football, sometimes teams opt to choose lesser talent they know they can sign over a player who could command a higher signing bonus. As a high school prospect, Montes de Oca has plenty of leverage in contract negotiations compared to a college junior or senior because he can always choose to play collegiately for the next few years.
Shawn Sedlacek, a former major-league pitcher, told Baseball America's Clint Longenecker that Montes de Oca has the potential to pitch well professionally.
"He has major-league stuff," Sedlacek said to Baseball America. "He is a big guy with a very heavy fastball. He has a lot behind the ball, and when he goes to his two-seam fastball, it is very heavy and sinks a lot. The heavy arm-side run is something that will make life very difficult for hitters."
Whether Montes de Oca is headed to the professional ranks or Columbia, Mo., to play collegiately, he said he's happy knowing that he has two great choices before making a decision.
"We talked a little bit about his options," Stoll said. "He's obviously got a nice scholarship from Mizzou. At some point he's going to get drafted. It just depends on how high he goes, whether he has a decision to make for Mizzou or sign. I try to tell him as much as possible, as a KU grad, I hope he gets drafted good enough where he signs and doesn't go to Missouri."
Copyright 2018 The Lawrence Journal-World. All rights reserved. This material may not be published, broadcast, rewritten or redistributed. We strive to uphold our values for every story published.