Photo Gallery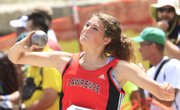 Class 6A track at Wichita (Saturday)
Wichita — Right before their final race of the season on Saturday at Cessna Stadium, Lawrence High junior Jensen Edwards told the rest of her 4x400 relay team — junior Leah Gabler, junior Marissa Pope and sophomore Kyleigh Severa — that they should try to break the school record, which was about four seconds under their personal-best time.
They laughed it off and wanted to aim for a time closer to what they ran in Friday's prelims.
But when they started running, they started believing. When they saw the time, 3:55.19, the team sprinted to Severa, who was on the track past the finish line after running the anchor leg.
Not only had they won their second straight state championship in the relay, but they broke the LHS school record.
They screamed, jumped up and down, and were met by teammates who sprinted across the field to cheer with them.
Their victory also gave the Lions girls' track and field team just enough points to place third in the team standings for the second straight year.
"It was a lot of work," said Edwards, who also took fourth place in the 400. "It took the whole season and just being in this moment is so surreal. It hasn't even sunk in yet."
The relay team topped the school record of 3:55.29, set in 2007, which Severa's older sister, Kaela, ran the third leg.
"I told her from when I started track in high school that (her records were) my goal," Severa said. "She was all I wanted to beat going into the track team at LHS. To break it today — at state especially— it's just incredible and I can't wait to tell her because I know she'll be so happy for me."
Not only did the time of 3:55.19 go into the school record books but it also ranks as the eighth-fastest in Kansas state history.
"It's the last race of the season and we just give it our all,' said Severa, who ran the anchor leg for the first time this year. "By that race and how much we PR'd, you could just tell how much that race means to us and how much we care about this track team."
LHS coach Jack Hood added: "I didn't think they'd ever be able to do that until someone ran with them. They ran away halfway through and just went and set a school record on their own. I mean, that was unbelievable."
The relay team, minus Gabler for freshman Myah Yoder, finished fifth in the 4x100 and also added points to the team score. Junior Matia Finley wasn't happy with her throws in the shot put, but took fifth place while sister Rebecca finished seventh.
LHS junior Tae Shorter shined for the boys' team, finishing fourth in the triple jump with a personal-best leap of 45 feet, five inches.
Shorter, who sports an orange streak in his mohawk similar to future Kansas University basketball player Kelly Oubre, had his best mark on his first jump. His coaches told him to enter the event with a lot of energy.
"I mean, I was really excited," Shorter said. "I PR'd by five inches. That's mainly what I came here for, just to PR and just to medal, and I did that. I'm just real excited right now."
Shorter didn't qualify for state last season and was only jumping at 43 feet before regionals.
"He does well under pressure," Hood said. "The pressure situations seem to bring the best out of Tae."
Junior Dearion Cooper took seventh in the 100 hurdles. He clipped the third and last hurdle, and it hurt his time.
"I was ninth when (the seeds) came out … I'm just glad I made it to the finals this year and I didn't trip in regionals again," Cooper said. "I'm just happy to be here overall. Not my best race but I still placed."
Lawrence's boys finished in 24th place in the team standings with nine points.
State track results
Class 6A Girls
Girls Team Scores: Free State 97, Olathe East 80, Lawrence High 47, Garden City 46.50, Maize 39.5, Dodge City 36, Manhattan 32, Topeka 31, Shawnee Mission West 30, Wichita East 30, Olathe South 26, Olathe North 20, Wichita Northwest 18, Shawnee Mission South 17, Wichita Southeast 15, Shawnee Mission North 14, Gardner-Edgerton 13, Blue Valley West 13, Olathe Northwest 12, Blue Valley Northwest 12, Shawnee Mission East 11, Blue Valley North 10, Junction City 9, Shawnee Mission Northwest 7, Wichita South 6, Derby 4, Blue Valley 1.
City results (Top Eight - State Medalist)
Shot Put: 5. Matia Finley, Lawrence High, 37-05. 7. Rebecca Finley, Lawrence High, 36-02.
High Jump: 7. Gabrielle Dabney, Free State, 5-00. 16. Caroline Dykes, Lawrence High, 4-08.
100 hurdles: 1. Alexa Harmon-Thomas, Free State, 14.67. 3. Gabrielle Dabney, Free State, 15.37. 4. Kiara Clark, Free State, 15.41.
4x800 Relay: 13. Leah Gabler, Riley Shook, Shaye White, Madeline Stegman, Lawrence High, 10:23.47. 14. Abigail Zenger, Marlee Yost-Wolff, Morgan Noll, Molly McCord, Free State, 10:28.86.
1600: 1. Bailey Sullivan, Free State, 4:59.43. 2. Emily Venters, Free State, 5:03.84. 7. Claire Sanner, Free State, 5:15.31.
4x100 Relay: 5. Myah Yoder, Kyleigh Severa, Marissa Pope, Jensen Edwards, Lawrence High, 49.86.
400: 4. Jensen Edwards, Lawrence High, 59.28. DQ. Laura Kennard, Free State, False Start.
300 hurdles: 1. Alexa Harmon-Thomas, Free State, 43.69. 2. Kiara Clark, Free State, 45.57.
800: 2. Bailey Sullivan, Free State, 2:17.80. 5. Emily Venters, Free State, 2:20.92. 9. Leah Gabler, Lawrence High, 2:23.20. 12. Molly McCord, Free State, 2:27.18.
4x400 Relay: 1. Leah Gabler, Marissa Pope, Jensen Edwards, Kyleigh Severa, Lawrence, 3:55.19.
Class 6A Boys
Boys Team Scores: Olathe East 85, Manhattan 75, Olathe South 50, Olathe North 46, Blue Valley Northwest 37, Hutchinson 32, Wichita Northwest 31, Topeka 30, Shawnee Mission West 26, Maize 26, Free State 25, Blue Valley 24, Wichita East 24, Wichita North 24, Dodge City 21, Blue Valley North 17, Shawnee Mission North 16, Washburn Rural 15, Shawnee Mission Northwest 14, Blue Valley West 13, Wichita Southeast 13, Shawnee Mission South 11, Shawnee Mission East 10, Derby 9, Lawrence High 9, Wichita South 7, Gardner-Edgerton 6, Olathe Northwest 3, Garden City 1, KC-Wyandotte 1.
Area results (Top Eight - State Medalist)
Javelin: 7. Lucas Werner, Free State, 172-07.
Triple Jump: 4. Tae Shorter, Lawrence High, 45-05. 11. Erik Parrish, Lawrence High, 43-05.
Discus: 14. Nicholas Hocking, Free State, 128-07.
100: 11. JD Woods, Lawrence High, 11.43.
110 hurdles: 7. Dearion Cooper, Lawrence High, 16.10.
4x800 Relay: 12. Ryan Liston, Ethan Donley, Tanner Hockenbury, Stan Skwarlo, Free State, 8:24.03.
4x100 Relay: 3. Isaac King, Avin Lane, Tyler O'Dell, Ronald White, Free State, 42.43.
800: 3. Stan Skwarlo, Free State, 1:56.69. 10. Ethan Donley, Free State, 2:01.71.
Copyright 2018 The Lawrence Journal-World. All rights reserved. This material may not be published, broadcast, rewritten or redistributed. We strive to uphold our values for every story published.