Photo Gallery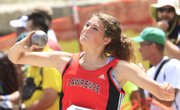 Class 6A track at Wichita (Saturday)
Wichita — Free State High's girls track and field team won a state championship and seniors Alexa Harmon-Thomas and Bailey Sullivan were back at the top of the medal podium. It was deja vu all over again on Saturday at Cessna Stadium.
Harmon-Thomas won in the 100- and 300-meter hurdles for the second straight year while Sullivan defended her state title in the 1600, running the fastest time in Kansas this year and breaking the school record.
Meanwhile, the Firebirds repeated as Class 6A state champions, earning 97 points.
"It's very exciting," Free State coach Jordan Rose said. "It's something that the kids have really been wanting. Almost every group contributed points so it was kind of a full team effort."
Harmon-Thomas, a seven-time state champion and one of the most accomplished hurdlers in Kansas state history who missed most of the year with a stress reaction in her leg, ran the top time in Kansas this year during her victory in the 300 hurdles at 43.69. She won the 100 hurdles with a time of 14.67.

Was it the way Harmon-Thomas wanted to end her career?
"It definitely was," she said with a big smile. "Not exactly the time I was looking for, but I can't be mad. The first time I ran (the 300) was last Friday for over a year."
In the 1600, Sullivan trailed Manhattan senior Alaina Schroeder on the final lap before sprinting past on the back stretch.
"When Alaina started to pull away on that third lap, I didn't know, I was like, 'Maybe I should just let her go.' But then I told myself, 'No, Bailey, you don't want it to end like that,'" said Sullivan, who also finished second in the 800. "I was definitely scared going into that fourth lap. … I just dug with everything I had and fortunately I had it."
Once Sullivan passed Schroeder, she heard the public address announcer saying she had a chance at running under five minutes, which was one of her season-long goals. She had an eye on the clock during her final effort towards the finish line.
She crossed the finish line in a school-record time of 4:59.43, and the 17th fastest time in Kansas state history.
"That was amazing," Rose said. "That was so good. That race was definitely very emotional, a very good race. When you see a kid not only winning but breaking a school record and setting that kind of stuff in her last race in the mile, that was very exciting."
Sullivan credited freshman teammate Emily Venters, who finished second in 5:03.84, for helping set the pace. Sophomore Claire Sanner topped her personal-record in the 1600 by more than three seconds (5:15.31) in a seventh place finish.
Just behind Harmon-Thomas, Clark finished second in the 300 hurdles with a time of 45.57 and fourth in the 100 hurdles. She ran just behind a personal-record time in the 300 hurdles she set during Friday's prelims but was just as thrilled.
"I'm so happy because I just got that (Friday) and I honestly never thought it would happen," Clark said. "When I saw it on the clock I was shocked. I didn't expect it. I'm really grateful."
Junior Gabbi Dabney took third in the 100 hurdles and placed seventh in the high jump.
The biggest smiles of the day came from Free State's boys 4x100 relay team. Though they were seeded eighth, the team of senior Isaac King, freshman Avin Lane, junior Tyler O'Dell and sophomore Ronald White finished third in a personal-best time of 42.43.
"We did kind of poorly in prelims and today we just knew it was our last chance to really make an impact for our team, so we just killed it in that one," King said. "We just all pushed it. …We were expecting eighth so we're super happy now."
The Firebirds' boys team finished in 11th place, with 25 points. FSHS senior Lucas Werner contributed by finishing seventh in the javelin with a throw of 172 feet, 7 inches. He had a big throw that might have landed past 180 feet, but his footing was off by half of a step and he stepped past the line for a scratch.
Senior Stan Skwarlo set a new personal-record in the 800, 1:56.69, while taking third place. The Wichita State signee was happy with his run as he made a late push for first place in the last 200 meters, but couldn't make up enough ground.
"I haven't run 1:56 since my freshman year," Skwarlo said. "It was nice to run on my home track, too, for next year. It was just a good day. It was a good way to go out."
State track results
Class 6A Girls
Girls Team Scores: Free State 97, Olathe East 80, Lawrence High 47, Garden City 46.50, Maize 39.5, Dodge City 36, Manhattan 32, Topeka 31, Shawnee Mission West 30, Wichita East 30, Olathe South 26, Olathe North 20, Wichita Northwest 18, Shawnee Mission South 17, Wichita Southeast 15, Shawnee Mission North 14, Gardner-Edgerton 13, Blue Valley West 13, Olathe Northwest 12, Blue Valley Northwest 12, Shawnee Mission East 11, Blue Valley North 10, Junction City 9, Shawnee Mission Northwest 7, Wichita South 6, Derby 4, Blue Valley 1.
City results (Top Eight - State Medalist)
Shot Put: 5. Matia Finley, Lawrence High, 37-05. 7. Rebecca Finley, Lawrence High, 36-02.
High Jump: 7. Gabrielle Dabney, Free State, 5-00. 16. Caroline Dykes, Lawrence High, 4-08.
100 hurdles: 1. Alexa Harmon-Thomas, Free State, 14.67. 3. Gabrielle Dabney, Free State, 15.37. 4. Kiara Clark, Free State, 15.41.
4x800 Relay: 13. Leah Gabler, Riley Shook, Shaye White, Madeline Stegman, Lawrence High, 10:23.47. 14. Abigail Zenger, Marlee Yost-Wolff, Morgan Noll, Molly McCord, Free State, 10:28.86.
1600: 1. Bailey Sullivan, Free State, 4:59.43. 2. Emily Venters, Free State, 5:03.84. 7. Claire Sanner, Free State, 5:15.31.
4x100 Relay: 5. Myah Yoder, Kyleigh Severa, Marissa Pope, Jensen Edwards, Lawrence High, 49.86.
400: 4. Jensen Edwards, Lawrence High, 59.28. DQ. Laura Kennard, Free State, False Start.
300 hurdles: 1. Alexa Harmon-Thomas, Free State, 43.69. 2. Kiara Clark, Free State, 45.57.
800: 2. Bailey Sullivan, Free State, 2:17.80. 5. Emily Venters, Free State, 2:20.92. 9. Leah Gabler, Lawrence High, 2:23.20. 12. Molly McCord, Free State, 2:27.18.
4x400 Relay: 1. Leah Gabler, Marissa Pope, Jensen Edwards, Kyleigh Severa, Lawrence, 3:55.19.
Class 6A Boys
Boys Team Scores: Olathe East 85, Manhattan 75, Olathe South 50, Olathe North 46, Blue Valley Northwest 37, Hutchinson 32, Wichita Northwest 31, Topeka 30, Shawnee Mission West 26, Maize 26, Free State 25, Blue Valley 24, Wichita East 24, Wichita North 24, Dodge City 21, Blue Valley North 17, Shawnee Mission North 16, Washburn Rural 15, Shawnee Mission Northwest 14, Blue Valley West 13, Wichita Southeast 13, Shawnee Mission South 11, Shawnee Mission East 10, Derby 9, Lawrence High 9, Wichita South 7, Gardner-Edgerton 6, Olathe Northwest 3, Garden City 1, KC-Wyandotte 1.
Area results (Top Eight - State Medalist)
Javelin: 7. Lucas Werner, Free State, 172-07.
Triple Jump: 4. Tae Shorter, Lawrence High, 45-05. 11. Erik Parrish, Lawrence High, 43-05.
Discus: 14. Nicholas Hocking, Free State, 128-07.
100: 11. JD Woods, Lawrence High, 11.43.
110 hurdles: 7. Dearion Cooper, Lawrence High, 16.10.
4x800 Relay: 12. Ryan Liston, Ethan Donley, Tanner Hockenbury, Stan Skwarlo, Free State, 8:24.03.
4x100 Relay: 3. Isaac King, Avin Lane, Tyler O'Dell, Ronald White, Free State, 42.43.
800: 3. Stan Skwarlo, Free State, 1:56.69. 10. Ethan Donley, Free State, 2:01.71.
Copyright 2017 The Lawrence Journal-World. All rights reserved. This material may not be published, broadcast, rewritten or redistributed. We strive to uphold our values for every story published.