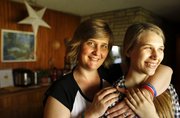 Five years ago, after her preteen daughter was diagnosed with Burkitt's lymphoma, Karla Knudson helped organize a fundraiser where 46 mothers of cancer survivors shaved their heads to benefit cancer research. She got her own head buzzed, keeping it that way for the entire month of September.
This week, to mark the fifth anniversary of her daughter's remission, Knudson is going back under the razor. She plans to take part in the fifth annual 46 Mommas event Sunday in Boston.
"That is a pretty big milestone in the cancer world," said Knudson, 47, a Lawrence office manager. "They start throwing around that word 'cured' when you hit that five years. Your chance of relapse goes way, way down. So it's pretty big."
It was a stomach ache that wouldn't go away that originally brought then-11-year-old Annika to the pediatrician in early 2009. Doctors eventually found a fist-size tumor in her abdomen.
"You're doing everything right. You're leading a healthy life and all of a sudden your kid has cancer," Knudson said. "It was pretty upsetting."
Luckily, Annika's cancer was only stage 2. Childhood cancers are often diagnosed later because their symptoms mimic other pediatric illnesses. Annika's treatment was over in about three months.
"Even though nobody who gets cancer is lucky," Knudson said, "there was sort of a sense that …"
"We dodged a bullet," Annika said, completing her mother's thought.
On an online support group for moms of cancer survivors, Knudson met a woman who was interested in increasing awareness and funding for childhood cancer research. They formed the 46 Mommas campaign, where each mother would raise a set amount of money leading up to the head-shaving event; 46 is the number of children diagnosed with cancer in America every weekday.
The moms started with a goal of raising $1 million, and have since surpassed that number by more than $400,000. The money supports the St. Baldrick's Foundation, the largest private supporter of childhood cancer research in the U.S. Knudson brought in about $6,000 for the inaugural event and another $2,000 this time around, making her daughter proud in the process.
"It was something I didn't expect, but it was nice, because she cared enough to do something like that for me," said Annika, as she ran her fingers through her own hair on a recent day at the family's Lawrence home. "It's like you're getting rid of something that kind of helps define your image."
How to help
To donate to Karla Knudson's 46 Mommas campaign, click here or call 888-899‑2253.
Annika remembers losing her hair five years ago after undergoing chemotherapy. She made the best of the bad situation, though, sporting purple, red and blue wigs. "If you're going to wear wigs, you might as well wear something fun," said Annika, who gives off a cheerful, happy-go-lucky vibe. The 17-year-old is going into her senior year at Lawrence's Bishop Seabury Academy, where she takes part in the school choir and theater program.
The teen still goes to yearly checkups at the oncologist but says cancer hasn't altered her life that dramatically.
"I'm certainly more aware of the sun," she said. "I'm kind of hesitant to go outside on a sunny day if I don't have sunscreen on."
In addition, every summer, she goes to Camp Quality, a camp for youth cancer survivors, where the last thing they talk about is — you guessed it — cancer. Sadly, over the years, Annika has lost people she went through treatment or Camp Quality with, which is one reason her mom is getting her hair buzzed Sunday. Knudson wants to fund research that will help reduce the relapse rate of childhood cancer and lessen the side effects of cancer treatment in kids.
"Those stories do motivate me to keep on advocating and raising awareness," she said, "because from awareness comes funds for research."
Copyright 2018 The Lawrence Journal-World. All rights reserved. This material may not be published, broadcast, rewritten or redistributed. We strive to uphold our values for every story published.