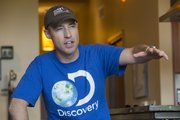 Dr. Brian Russell is a jack-of-all-trades.
He's a licensed psychologist in Kansas, licensed attorney in Kansas and Missouri, holds undergraduate, master's, law and Ph. D. degrees, lectures at Kansas University, serves as an expert witness in high-profile court cases and is currently authoring a book in his spare time.
Oh, and he hosts a TV show on a national network.
To some Lawrence residents, Russell might just be a friendly stranger walking his tiny white dog down Massachusetts Street, but to millions of Investigation Discovery viewers, he's the expert co-host of the network's primetime crime program, "Fatal Vows."
Russell, who has lived in Lawrence since his first year of law school at KU in 1993, uses his KU degrees in law and clinical psychology to analyze fascinating crimes that happen across the country. On "Fatal Vows," Russell examines marriages that end in cold blood.
Russell and his co-host, psychotherapist Dr. Stacy Kaiser, examine how some seemingly happy marriages twist into divorce and danger. After studying crimes for nearly two decades, Russell has become an expert in deciphering what brings everyday people to commit horrible crimes.
Russell said there is one term the general public uses to explain crimes that needs to be erased from our vocabularies.
"People don't snap; it's a gradual escalation from nonlethal violence," Russell said. "When people say, 'he wasn't an aggressive person,' all it shows is that we don't know our neighbors as well as we think we do."
After graduating with his law and master's degrees, Russell decided to stick around to continue is education, studying clinical psychology at Kansas University so he could become an expert witness in criminal court cases. But after finishing his Ph. D., Russell said he decided to go into television so he could make an even bigger impact.
"The whole reason I did this was not to achieve some sort of fame, but to help people. Some psychologists have patients and help a small amount of people profoundly, but I want to help a tremendous amount of people a little bit."
Russell said that he hopes by watching a show that analyzes the breakdown of a doomed marriage that his viewers learn something along the way.
"Even though I know people tune in to watch an interesting mystery play out, hopefully we start some conversations along the way" Russell said. "I hope after watching, someone can say, 'that looks like my sister's relationship. I think she's in an abusive relationship and I better do or say something before she ends up like that.'"
When he's not filming the show in Canada, Russell often appears as an expert guest on news programs like "The Factor" on Fox News or "Nancy Grace" on HLN. Though Russell most often studies crimes of national interest, sometimes he is asked to analyze incidents a little closer to home.
Russell has a formula for what makes a crime story interesting on a national level. He said there are seven factors that make up captivating cases: youth, beauty, sex, celebrity, mystery, fear and victim innocence.
"People ask me why when there are thousands of missing children reports that you could pick from to make a national story that we focus on one and not the other," Russell said. "It's those seven factors."
Take, for example, the case of 20-year-old Lawrence woman Sarah B. Gonzales McLinn, who killed roommate and former employer 52-year-old Harold Sasko. McLinn crushed sleeping pills into Sasko's beer, bound his wrists and ankles together and plunged a hunting knife into his neck as far as she could before slicing ear to ear in Lawrence in January.
Russell said that though the events of the murder of Sasko's are interesting to some on a local-level, the horrifying crime doesn't have all the necessary elements that make up cases of national interest.
"(McLinn) is young, kind of attractive and doesn't seem like what people think of as a dangerous, murderous woman," Russell said, "but really as a murder case it doesn't sound all that interesting. There's not much mystery about who did it and how the man was killed."
You can catch Russell on the ID network, channel 101 for Wow! customers, channel 260 for AT&T; U-verse customers, channel 285 for DIRECTV customers and channel 192 for DISH customers. Season three of "Fatal Vows" will air this fall.
Copyright 2018 The Lawrence Journal-World. All rights reserved. This material may not be published, broadcast, rewritten or redistributed. We strive to uphold our values for every story published.