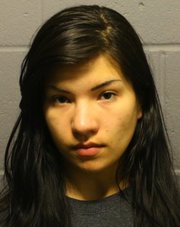 Sarah B. Gonzalez McLinn put crushed sleeping pills into Harold Sasko's beer, bound his wrists and ankles together once he collapsed to the floor and plunged a hunting knife into his neck as far as she could before slicing ear to ear, according to testimony Friday by law enforcement officials and Coroner Erik Mitchell.
McLinn, 19, is charged with first-degree murder in the death of Sasko, a 52-year-old Lawrence businessman with whom she had been living.
McLinn sat quietly through much of her preliminary hearing Friday, her long black hair pulled into a ponytail and both her wrists and ankles cuffed together, as family and friends packed the half of the courtroom behind her table and several people testified.
The letters "F" and "R" were written in Sasko's blood on the wall of the home, in an attempt to write the word "freedom," said Lawrence Detective M.T. Brown, who interviewed McLinn after she was detained in Florida, where she had fled after Sasko's death.
Brown said McLinn told him she was unhappy with her life and wanted out of Sasko's house and the life she had. "She felt freedom after she did it," Brown said.
Brown said McLinn told him that Sasko had made unwanted sexual advances when he drank, but it wasn't those advances that led her to kill him.
"She said she wanted to see someone die," Brown told the court.
After the testimony, District Judge Paula Martin bound McLinn over for trial on charges of first-degree murder and theft in Douglas County District Court. A trial date is tentatively set for Aug. 4. McLinn will return to court July 3 for a motions hearing.
The prosecution is being led by Douglas County District Attorney Charles Branson and Assistant District Attorney David Melton.
McLinn's attorney, Carl Cornwell, meanwhile, waived her right to speedy trial and filed notice Friday of intent to rely on the defense of mental disease or defect. Speaking afterward, he said a true trial date could be in 2015 instead.
According to testimony during Friday's hearing:
• Officer Dean Kemppainen said after McLinn's family reported her missing, police went on Jan. 17 to Sasko's home, where he kicked in a locked door because officers saw an unresponsive person on the floor inside. Once inside, he found Sasko dead, his wrists and ankles bound by zip ties and blood around his head and smeared on the wall.
• Brown said that McLinn told him that on Jan. 14 she drank beer with Sasko and put five crushed sleeping pills into his beer. Detective David Axman said forensic tests discovered traces of the pills in a beer can.
• Brown said McLinn told him Sasko continued to drink until he collapsed on the floor. McLinn told Brown she then zip-tied Sasko's ankles and wrists. Sasko mumbled something and she had second thoughts. McLinn then cut off zip ties, but soon put new zip ties back on.
• Brown said McLinn told him she then retrieved a hunting knife, felt for Sasko's pulse and plunged the knife directly into his artery, then sliced through his neck.
• Brown testified that Sasko had sent a text message days before his death to apologize for trying to have sex with McLinn. But during their interview, McLinn told Brown she killed Sasko because she "wanted to see someone die." He said she told him she had violent thoughts and decided five days before Sasko's death that she would kill him.
• Brown testified that McLinn said she practiced first on a rabbit that she bought and killed, skinned and ate at home with others present.
• After Sasko's death, Brown testified, McLinn turned on music in the bathroom, took a shower, straightened her hair, packed her things and her dog, Oliver, in Sasko's car and left.
• Brown said McLinn told him she fled because she knew she would get caught and wanted to see the ocean in Texas first. As she and Oliver swam near Brownsville, Texas, she decided to continue on to Florida because she thought the ocean would be nicer there. She ate fast food, got several tattoos and paid cash for everything, Brown said. She slept at rest stops, and at one point was fed dinner and sheltered by a pastor and his wife in Mississippi.
• Brown said McLinn's decision to see the Everglades was inspired by a tattoo artist. There, she was ultimately located by authorities more than 10 days after the homicide and was returned to Lawrence.
• Brown said Sasko and McLinn were "family friends" and McLinn moved in and paid rent to Sasko following her graduation from high school. McLinn briefly worked for Sasko at one of the Cici's Pizza franchises he owned. In court on Friday, Cornwell said McLinn was listed on Sasko's insurance policy as a stepdaughter. Also Friday, Brown said McLinn and Sasko used different names — Vanessa and Scott — when communicating because they had once talked about getting away and "having a whole other life." Brown said McLinn told him Sasko had previously discussed suicide, that his business was not doing well and that she owed him money.
Copyright 2018 The Lawrence Journal-World. All rights reserved. This material may not be published, broadcast, rewritten or redistributed. We strive to uphold our values for every story published.