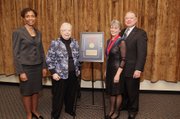 Saralyn Reece Hardy, director of the Spencer Museum of Art on the Kansas University campus, was named the inaugural recipient of the Spencer Museum of Art Marilyn Stokstad Directorship on Friday in the first investiture ceremony to take place on KU's Lawrence campus in the history of the school, the museum announced.
The Spencer Museum of Art Marilyn Stokstad Directorship supports research and travel for the director, internships for students, research and publishing projects involving students and faculty, and the engagement of scholars from across the humanities and other disciplines, the museum said.
Stokstad, the author of art history textbooks used widely by universities, is an expert in medieval art and Spanish art. She directed the KU Museum of Art, now the Spencer, from 1961 to 1968.
Reece Hardy earned two degrees at KU and began her career at the Spencer in 1977 before continuing her career in positions including director of museums and visuals arts for the National Endowment of the Arts. She rejoined the Spencer as director in 2005.
"Marilyn Stokstad is legendary," Reece Hardy said. "Her name and presence not only serve to distinguish our history, but now predict and ensure a dynamic future."
Copyright 2018 The Lawrence Journal-World. All rights reserved. This material may not be published, broadcast, rewritten or redistributed. We strive to uphold our values for every story published.