Photo Gallery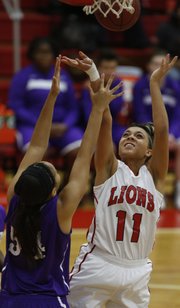 LHS girls basketball v. Topeka West
Images from Tuesday night's game between Lawrence High and Topeka West.
Box score
Lawrence (71)
Olivia Lemus 1-5 0-0 2, Skylar Drum 1-2 0-0 3, Brook Sumonja 3-4 1-1 8, Makayla Bell 3-9 2-6 8, Jaycie Bishop 5-11 2-2 15, Marissa Pope 5-9 5-8 15, Hailey Belcher 0-2 0-0 0, Kionna Coleman 6-11 0-1 12, Jolona Shield 2-12 0-0 6, Alexis Boyd 1-1 0-0 2. Totals 27-66 10-18 71.
Topeka West (37)
Aleigha Adams 0-3 0-1 0, Destinee' Wheat 1-4 0-0 2, Jaycie Collins 3-11 0-0 8, Lauryn Davis 0-4 0-0 0, Alex Tyson 4-8 8-11 16, Fherrin Manning 3-7 2-5 8, Kelsey Bowers 0-1 0-0 0, Desire Matthews 1-4 0-0 2, Bayleigh Cope 0-5 0-0 0, Addie Donohue 0-0 1-2 1. Totals 12-47 11-19 37.
Topeka West 4 8 11 14 — 37
Lawrence 14 14 21 22 — 71
Three-point goals: Topeka West 2-9 (Collins 2); Lawrence 7-27 (Bishop 3, Shield 2, Sumonja, Drum). Fouled out: None. Turnovers: Topeka West 22, Lawrence 10.
Lawrence High's girls basketball players talked before Tuesday's game against Topeka West about coming out with energy, especially using their full-court defense to generate offense.
Mission accomplished. The Lions forced 15 first-half turnovers and cruised past the Chargers for a 71-37 victory at LHS. It was Lawrence's first win in more than a month.
"I think our team got tired of losing," said senior Makayla Bell, who scored eight points and added six rebounds.
The Lions (2-7) scored on their first four possessions, resulting in a 7-0 lead to begin the game. After Bell made a free throw, senior Kionna Coleman scored four points in the paint and junior Marissa Pope drove in for a layup.
"We just wanted to come out and have energy because our last game we came out flat, so we wanted to start out well," Pope said.
After taking a 14-4 lead out of the first quarter, LHS began the second quarter on a 12-0 run. Bell swished a jumper on the team's first possession before Pope scored on a layup a minute later. Later in the run, Coleman dropped in two layups while freshmen Jaycie Bishop and Olivia Lemus both made mid-range jumpers.
Topeka West (0-9) missed its first 12 shots from the field on its way to the 26-4 deficit with under three minutes remaining in the first half. Topeka West also turned the ball over 13 times in that span.
"Our strategy is to trap the ball and just hard (full-court) pressure because there are some teams that can't handle it," Bell said. "Our goal is just to make sure that we are capable of trapping without fouling and just be able to get the ball and take it from them."
LHS opened the second half with a turnover, which prompted a quick timeout by Lions coach Nick Wood. After multiple squandered leads this season, he wanted his team to maintain its energy from the first half. The players responded with a 12-5 run over the next three minutes.
"It felt really good," Bell said. "We've worked really hard and let a lot of games get away from us, so getting a win this game helps boost our confidence a lot."
Pope opened the fourth quarter with back-to-back layups, as she went on to tie Bishop for a team-high 15 points. LHS scored on its final three possessions, with a jumper by sophomore Alexis Boyd, and three-pointers by Brook Sumonja and Skylar Drum.
"We got the pace of the game going how we wanted to play to an up-and-down tempo," Wood said. "They made shots, relaxed and had fun. It's important for these girls to experience some success because they put so much time into it. They work so hard. It's exciting for them to taste success."
The Lions will face Leavenworth on the road at 6:30 p.m. today, making up a game that was postponed earlier this month due to weather.
Copyright 2018 The Lawrence Journal-World. All rights reserved. This material may not be published, broadcast, rewritten or redistributed. We strive to uphold our values for every story published.