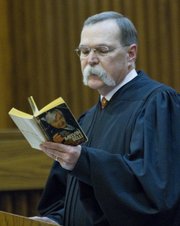 Topeka — Facing a budget crisis and unfriendly Republican leadership, Kansas Supreme Court Justice Lawton Nuss said Wednesday that without additional funding, courts will be forced to close.
"The only question is how long," Nuss said.
And without referring to any pending cases or a recent verbal swipe from Gov. Sam Brownback, Nuss said the judicial system won't decide cases based on threats or other pressures.
Nuss made his remarks during his State of the Judiciary address.
Usually a low-key event, Nuss' speech drew a packed crowd of legislators and court officials in the state Supreme Court hearing room and was also streamed live on the Internet.
The stakes between the Kansas Supreme Court and the Legislature are high during the current legislative session.
The court is considering an appeal of a lower court panel that ruled the state has unconstitutionally cut school funding. A Supreme Court ruling in favor of the plaintiff school districts could result in the Legislature and Brownback having to increase school funding by $500 million.
Last week, Brownback said during his State of the State speech that courts shouldn't be telling elected representatives how much to fund schools.
"Too many decisions are made by unaccountable, opaque institutions," Brownback said as five of the seven justices sat nearby.
Nuss started his address Wednesday reading from a book written by Melvin Belli, a famous attorney who died in 1996.
The passage dealt with a judge in France taking a bribe, but the French lawyer explained that the judge was honorable because he did not take bribes from both sides.
That drew laughter from the audience. Nuss then said, "We laugh because that is certainly not the way that judges decide cases in Kansas. We do not take money from either side. Nor do we decide cases based on money's distant cousins, threats and other pressures."
In a brief question and answer session with reporters after his speech, Nuss was asked if that was in response to Brownback's slap-down of the court. "If there's a connection to be made, I'll leave that up to you folks to make the connection," Nuss said.
Most of his State of the Judiciary dealt with budget issues.
Nuss said the Legislature and Brownback have shorted the judicial system $8.25 million for the next fiscal year, which starts July 1.
He said under-funding of the courts undermines the judicial system in Kansas and will lead to days when courts will be forced to close and employees will be furloughed.
The courts were temporarily closed in 2010 and 2012 because of budget problems.
Nuss, however, thanked legislators for passage of a pay increase for certain nonjudicial employees, and hoped the agreement would lead to more cooperation between the court and the Legislature.
Copyright 2018 The Lawrence Journal-World. All rights reserved. This material may not be published, broadcast, rewritten or redistributed. We strive to uphold our values for every story published.