Photo Gallery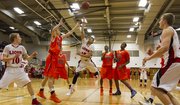 Olathe East at LHS boys
Box score
LAWRENCE BOYS (57)
Justin Roberts 4-17 4-4 14, Connor Henrichs 2-5 6-9 11, Price Morgan 3-6 1-2 7, Anthony Bonner 8-16 2-5 22, John Barbee 0-4 0-0 0, Ben Rajewski 1-2 0-0 3, Anthony Riley 0-2 0-0 0. Totals 18-52 13-20 57.
OLATHE EAST (63)
Cedric Roland 2-4 1-2 5, Brady Kaemmer 0-1 0-0 0, Caelan Neal 7-13 4-7 19, Justin Matthews 3-8 0-0 8, Ezra Talbert 4-11 4-5 13, Josiah Talbert 4-5 0-0 9, Javion Blake 2-2 3-4 9. Totals 22-48 15-17 61.
Olathe East 14 15 14 10 10— 63
Lawrence 8 16 3 16 4 — 57
Three-point goals: Lawrence 6-21 (Bonner 2, Roberts 2, Rajewski 1, Henrichs 1); Olathe East 7-18 (Blake 2, Matthews 2, Neal 1, E. Talbert 1, J. Talbert 1). Turnovers: Lawrence 7, Olathe East 9.
-->
-->
With less than a minute to play and Lawrence High leading by three, the Lions had the Olathe East Hawks right where they wanted them in a battle of top-five-ranked Sunflower League boys basketball foes Friday night at LHS.
But the heat of the moment turned red into green, and the Lions fell, 63-57, in overtime.
Leading by three with less than 30 seconds to play, the Lions were in what head coach Mike Lewis called their "red light" offense. The purpose was to spread the floor and force the Hawks to foul. Instead, the Lions attacked the rim and turned the ball over, giving the Hawks a chance to tie, which they did when senior Ezra Talbert buried a three-pointer from the wing after finding himself all alone after a failed switch by the Lions (7-2).
LHS junior Anthony Bonner had a chance to win it in regulation, but his off-balance jumper rolled off the rim, and the two teams went to OT.
"I thought I got a good look there," said Bonner, who led all scorers with 22 points. "I practice that all the time with my dad in the gym. I just had to hang a little longer than I wanted. I gotta just keep working on getting better on plays like that."
That was hardly the only play that cost the Lions. After leading 18-14 after the first quarter and 34-29 at halftime, LHS went cold in the third quarter and scored just three points as Olathe East went up 43-37 heading into the fourth.
Asked what happened in the forgettable third, LHS sophomore Price Morgan (seven points, six rebounds) offered up little explanation.
"I wish I knew," he said.
Added sophomore point guard Justin Roberts: "We were getting good looks. Shots were just going in and out."
No one knew that better than Roberts, who opened 4-of-4 from the floor for 10 points but then missed his final 13 the rest of the way. His four clutch free throws in the fourth quarter and overtime were the only makes the dynamic playmaker experienced after the six-minute mark of the second quarter.
"The foul situation really got to me," said Roberts, who sat on the LHS bench with four fouls for half of the fourth quarter.
This marks the second year in a row that the Lions dropped a hard-fought nail-biter to the Hawks on their home floor.
"That makes it a lot worse," Roberts said. "We had the win in our hands, and we gave up that shot to tie it. It was just the little things that cost us."
Added Morgan: "It stings more than most. But the most important game is the next game and we just have to come back to practice ready to work."
LHS will open play in the Topeka Invitational Tournament at 5:15 p.m. Thursday against Wichita South at Topeka High.
Copyright 2018 The Lawrence Journal-World. All rights reserved. This material may not be published, broadcast, rewritten or redistributed. We strive to uphold our values for every story published.