Photo Gallery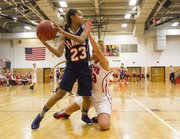 Olathe East at LHS girls
Box score
LAWRENCE (35)
Marissa Pope 2-5 2-4 6, Kionna Coleman 2-5 1-3 5, Jaycie Bishop 2-4 0-0 4, Jolona Shield 3-7 0-2 6, Olivia Lemus 0-0 0-0 0, Matia Finley 1-2 0-0 2, Skylar Drum 2-5 1-5 6, Brook Sumonja 1-2 1-3 3, Makayla Bell 1-1 1-2 3, Hailey Belcher 0-2 0-0 0, Alexis Boyd 0-0 0-0 0. Totals 14-33 6-19 35.
OLATHE EAST (44)
Cameron Kincaid 3-5 0-5 6, Regan Stone 2-7 4-9 8, Whitney Nelson 2-5 2-5 6, Jordan Cronan 1-3 1-1 3, Caroline Hoppock 0-2 1-2 1, Carolyn Schmidt 3-5 2-4 8, Amy Waechter 1-2 2-2 4, Molly Taitt 0-1 2-2 2, Jamie Waechter 1-3 1-1 3, Lauren Kirk 1-1 0-0 2, Valencia Hinton-Scott 0-0 0-0 0. Totals 14-34 15-31 44.
Olathe East 2 14 11 17 — 44
Lawrence 0 12 6 7 — 35
Three-point goals: Lawrence 1-8 (Drum); Olathe East 1-5 (A. Waechter). Turnovers: Lawrence 15, Olathe East 14.
-->
-->
It's always easy after the final horn sounds to look back at a game with a fine-toothed comb and nitpick about all of the things that could have gone differently.
A turnover here or there, one more made basket or one less foul called, and things could have been different.
Never was that more true for the Lawrence High girls basketball team than after its 44-35 loss to Olathe East on Friday at LHS. And never was it easier to pinpoint the area that would have changed everything.
"Free throws," LHS coach Nick Wood said. "And more important than us missing free throws was the fact that we put them on the free-throw line 30 times and got into foul trouble in the first half."
Both were problem areas which the Lions (1-6) had hoped to avoid, but rather than being able to play their normal, fast-paced style, the Lions were forced to slow things down a bit because of foul trouble for most of their starting lineup.
Lawrence connected on just five of 19 free-throw tries, while Olathe East hit 15 of 31.
The Lions' latest loss may also have been their most painful. LHS led after the first, second and third quarters and opened the game with a 12-2 advantage that stretched into the second quarter. But Olathe East, behind patience in the paint and plenty of free-throw makes of its own, slowly chipped into the LHS lead until it was gone for good on the opening basket of the fourth quarter. The Lions were outscored 28-13 in the second half.
"Typically, our defense has helped us generate offense," Wood said. "But tonight we played a little more zone, which helped us defensively but definitely took away something from our offense, too."
No Lion finished with more than six points — Skylar Drum, Jolona Shield and Marissa Pope each had six — despite eight LHS players scoring.
After the game, many LHS players emerged from the locker room with tears in their eyes.
"This one hurts more because we had the lead at halftime and going into the fourth quarter," he said. "These girls can see that the work they're putting in can pay off, but now they have to figure out how to get over that hump and use that to start winning games instead of just being competitive. I wish I had a magic pill I could give them, but they're going to have to figure that out for themselves."
Copyright 2018 The Lawrence Journal-World. All rights reserved. This material may not be published, broadcast, rewritten or redistributed. We strive to uphold our values for every story published.