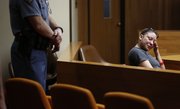 A 20-year-old Topeka woman pleaded guilty Friday to second-degree murder in the July 2013 shooting death of Gary Edens, 51, of Lawrence.
Brittny Marie Adams will be sentenced by District Judge Sally D. Pokorny on Feb. 28 in Douglas County District Court.
Appearing in court on Friday, Adams also entered a plea of no contest to two counts of felony criminal threats made to a corrections officer at the Douglas County Jail.
Adams had been accused of shooting Edens in the back of the head just outside the front door of his home in the 600 block of Michigan Street on July 17, 2013. The court proceedings so far have not revealed a motive for the killing.
Depending on her criminal history, Adams faces between 12 and 54 years in prison for intentional second-degree murder and five to 17 months each for the threats.
As part of a plea agreement, all three terms would run consecutively and she would serve her prison time without filing motions or requesting probation.
During a December preliminary hearing, the prosecution, lead by Senior Assistant District Attorney Eve Kemple and District Attorney Charles Branson, upped its charges to premeditated first-degree murder. Adams was originally set to return to court this week to get a trial date.
During a hearing last month, Pokorny listened to testimony from witnesses that included Edens' son, Jeremy, and a former Douglas County Jail cellmate of Adams who said Adams often boasted about causing Gary Edens' death.
"She said she blew his brains out," said Jessic Eastman during testimony. Eastman said Adams told her she killed Gary Edens and that she had also instructed Johnathan Rush, a Wichita man who drove her to Edens' home, to kill Jeremy Edens, too.
A Lawrence Police Department detective testified that Adams told police Rush drove her to the Edens' home in search of information about two girls who abandoned Adams in Topeka, stealing her car in the process.
Adams and Rush were both arrested in Topeka after the shooting. Lesser charges filed against Rush were later dropped in Douglas County when criminal firearm possession charges were taken up in federal court. Rush pleaded guilty in November and awaits sentencing.
Edens' death was the first homicide in Lawrence since 2008 and the first of three that took place last year. In November, 67-year-old Larry Hopkins was charged with first-degree murder in the shooting death of his 61-year-old wife, Margaret Hopkins. Marci Deshayna Cully is charged with second-degree murder in the stabbing death of her boyfriend, Wayne Francisco, early Christmas morning.
Copyright 2018 The Lawrence Journal-World. All rights reserved. This material may not be published, broadcast, rewritten or redistributed. We strive to uphold our values for every story published.