Box Score
Shawnee Mission West 57, Lawrence High girls 42
Lawrence (42)
Olivia Lemus 0-2 0-0 0, Skylar Drum 0-2 0-0 0, Brook Sumonja 0-3 0-2 0, Makayla Bell 0-4 0-0 0, Jaycie Bishop 4-6 0-0 12, Marissa Pope 3-6 0-0 6, Hailey Belcher 0-2 0-0 0, Kionna Coleman 5-17 3-4 13, Jolona Shield 3-11 0-0 9, Matia Finley 1-1 0-0 2, Alexis Boyd 0-1 0-0 0. Totals 16-56 3-5 42.
Shawnee Mission West (57)
Chloe McMahon 4-6 2-5 11, Anna Karlin 0-1 1-4 1, Morgan Mauck 4-11 1-3 9, Marleah Campbell 8-18 7-9 24,Kenzie Loe 3-6 3-6 9, LaShai Scales 0-3 1-2 1, Megan Rongish 0-1 0-0 0, Alyx Kemp 1-1 0-0 2. Totals 20-47 15-28 57.
SM West 18 16 8 15 — 57
Lawrence 15 5 10 12 — 42
Three-point goals: Shawnee West 2-7 (McMahon, Campbell); Lawrence 7-22 (Bishop 4, Shield 3). Fouled out: Pope. Turnovers: Shawnee West 15, Lawrence 14.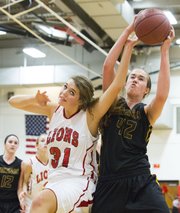 The Lawrence High's girls basketball team knew it would need to limit Shawnee Mission West's post players in order to come out with a victory on Tuesday night.
Instead, LHS's full-court press couldn't stop the Vikings from finding their post players for layups or their bigs from grabbing offensive rebounds on the misses as the Lions fell, 57-42.
"The problem was we fouled too much, we put them on the line and when we would score, defensively we wouldn't match up quick enough. That allowed them to get easy looks," LHS coach Nick Wood said.
The Lions (1-6) were able to cut a 14-point deficit at halftime to eight with four minutes to play in the fourth quarter after a three-pointer by freshman Jaycie Bishop. However, the Vikings responded with a three-shot possession that ended in a layup, and LHS missed its next three shots.
"(SM West's height) was definitely a huge factor in the game," Wood said. "They were a little bigger than we were and we didn't do a good job keeping them off of the offensive glass. Then, a lot of the shots they made were around the basket."
The Vikings (2-5) shut down the Lions' offense in the second quarter, as LHS went 1-for-19 from the field and failed to score for the final 6:22 before the half.
Early in the third quarter, junior Marissa Pope ended the drought with a jumper before junior Jolona Shield drilled a three-pointer on the next possession.
"We actually got a lot more shots, it felt like," said Bishop, who finished with 12 points on four three-pointers. "We ran at a good pace, so we were able to get shots up and make them more."
Senior Kionna Coleman, who scored a team-high 13 points and added a game-high 16 rebounds, scored on a layup and Bishop hit a three to cut the score to 48-40 with 4:03 left in the third quarter, but SM West responded with a 7-2 run to end the quarter.
The Lions will play at home on Friday against Olathe East.
Copyright 2018 The Lawrence Journal-World. All rights reserved. This material may not be published, broadcast, rewritten or redistributed. We strive to uphold our values for every story published.