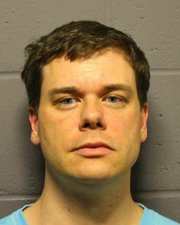 A Lawrence man accused of secretly video-taping people in clothing store dressing rooms pleaded not guilty to the charges Monday in Douglas County District Court.
Orion M. Graf, a 35-year-old Kansas University graduate student at the time, was charged in July with 10 counts of felony breach of privacy.
Judge Sally Pokorny set Graf's trial for May 14. Graf waived his right to a preliminary hearing, which had been scheduled for Monday.
The offenses are alleged to have occurred between Nov. 1, 2012, and Feb. 23, 2013. Citing the ongoing case, authorities have declined to name stores in which Graf is believed to have hidden cameras.
Graf was first arrested after an initial complaint in February, and then was arrested again in July after detectives searched several Lawrence stores and sent evidence to a lab that specializes in examining digital devices and computers.
Copyright 2018 The Lawrence Journal-World. All rights reserved. This material may not be published, broadcast, rewritten or redistributed. We strive to uphold our values for every story published.