Lawrence crime, fire, courts coverage
Have a tip?
Contact Journal-World reporter Caitlin Doornbos: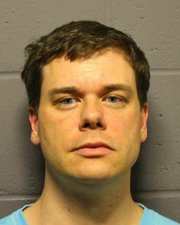 A Lawrence man has been charged with several felony counts stemming from allegations that he made secret video recordings of people undressing this past winter.
Police and prosecutors declined to release more details, but Lawrence police visited several downtown clothing shops in the weeks following initial reports of the offense in February, looking for hidden cameras in dressing rooms.
Police have investigated the possibility that the alleged videotaping occurred beyond downtown, but they won't say what they found.
Orion M. Graf, 35, a Kansas University graduate student, appeared in Douglas County District Court Monday and was charged with 10 felony counts of breach of privacy. He was arrested Sunday at his home and is being held in Douglas County Jail with bond set at $15,000.
Graf was first arrested in February on suspicion of secretly photographing or taking video of people after at least one incident was reported to police. County prosecutors did not charge Graf at that time, and police detectives launched a deeper investigation.
"Eventually, we decided it was part of a larger case," said Sgt. Trent McKinley, a police spokesman.
In the weeks after Graf's February arrest, investigators sent evidence to an FBI lab in Kansas City that specializes in examining digital devices and computers. Meanwhile, the investigation led police officers to visit clothing retailers in downtown Lawrence and elsewhere, McKinley said.
Store employees in downtown Lawrence who were visited by police asked not to be named in this story, and McKinley declined to name the stores because the case is now in the hands of Douglas County prosecutors. According to a witness list included in court documents in the case, one store visited by investigators was the Gap Inc., clothing store at 643 Massachusetts St.
Clothing store employees said they were told by police to look for a small device, possibly hidden in a corner of a dressing room, resembling a key fob used to remotely unlock a vehicle. The small camera did not transmit information and would most likely have to be hidden and then retrieved by the person using it to take video in the dressing room, store employees said they were told.
More details of the allegations against Graf may be revealed as the case moves forward. The offenses are alleged to have occurred between Nov. 1 and Feb. 23. Breach of privacy is a level-eight felony that can be punished with probation or up to 23 months in prison, depending on a person's criminal history.
KU officials confirmed that Graf is a graduate student at the university, where he has been a doctoral student in the Department of Anthropology. Graf has also been a graduate teaching assistant in the Department of Ecology and Evolutionary Biology, and that department has not yet selected its teaching assistants for the fall semester.
Graf is scheduled to appear in court again Monday. Calls to his attorney were not immediately returned.
Sally Zogry, executive director of Downtown Lawrence Inc., said she had not heard of the Graf case until today, and she did not know whether any members of the merchant association were affected. "Obviously, our members are committed to the safety and security of their customers," Zogry said. "And their privacy."
Zogry, who joined Downtown Lawrence Inc., last month, said she has recommended that business owners take Lawrence police up on a standing offer to perform security checks on their businesses. Police officers will come to a store on request to examine the locks, doors, closing procedures, and other security features.
One business, concerned about a young female employee closing up shop late in the evening, asked police to escort her from work. Officers patrolling the downtown area said they were happy to do it.
Copyright 2018 The Lawrence Journal-World. All rights reserved. This material may not be published, broadcast, rewritten or redistributed. We strive to uphold our values for every story published.