Photo Gallery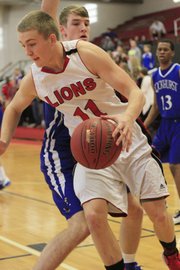 Lawrence High boys vs. Rockhurst
Box score
Lawrence (71)
Justin Roberts 6-10 8-11 21, Connor Henrichs 3-5 5-6 11, Price Morgan 2-4 4-6 8, Ben Rajewski 1-3 1-2 4, Anthony Bonner 4-9 4-4 13, John Barbee 4-5 2-2 12, Anthony Riley 0-2 1-2 1, Logan Applegate 0-1 1-2 1. Totals 20-39 26–35 66.
Rockhurst (64)
Andrew Marquardt 0-2 0-0 0, Lance Boehm 1-2 2-4 4, Will Bazzle 4-9 3-4 13, Cartier Dean 2-11 5-6 9, Patrick Geha 8-14 0-1 18, Adam Bowers 1-5 0-0 3, Spencer Seabaugh 0-1 0-0 0, JP Decker 2-3 0-0 4, Noah Spencer 4-7 0-0 9, Paul Heinemann 2-3 0-0 4. Totals 24-56 11-18 64.
Rockhurst 11 11 23 19 — 64
Lawrence 12 22 14 23 — 71
Three-point goals: Rockhurst 5-13 (Bazzle 2, Geha 2, Bowers); Lawrence 5-16 (Barbee 2, Roberts, Rajewski, Bonner). Fouled out: Geha. Turnovers: Rockhurst 14, Lawrence 14.
Lawrence High's boys basketball players had revenge on their minds.
Over the last three seasons, the Lions had lost to Rockhurst (Mo.) by a combined 59 points in three games.
However, LHS decided it was time for a change Saturday as it dominated in the fourth quarter on its way to a 71-64 victory, topping Missouri's defending 5A state champions.
"I haven't beat them before in the two years I've played them, so this feels really good," said junior Anthony Bonner, who scored 13 points and had a team-high four steals for LHS (6-1). "This is a great confidence-booster knowing we can beat them, one of the top teams in Missouri. It just feels great."
In the fourth quarter with 5:22 remaining and holding a four-point lead, the Lions went on a 7-0 run over the next 74 seconds.
That's when Bonner and sophomore Justin Roberts decided to command the offense and put the game away for good. Bonner drove in for a layup with 5:01 left and got a steal on the next defensive possession. After a Lawrence timeout, Roberts drilled a three-pointer, which was followed by another Bonner steal and a coast-to-coast layup to put LHS up 60-49 with 3:47 to go in the game.
"My dad has been on me about playing the passing lanes," Bonner said about his defense. "I just tried to do that and it worked out well."
Rockhurst (6-5) went on a 4-0 run over the next minute, but junior John Barbee was able to knock in two free throws before junior Ben Rajewski tracked down a long rebound and threw the ball down the court to sophomore Price Morgan, who beat the defense down the court for a layup. Morgan's score gave the Lions a 64-53 lead when the Hawklets called a timeout with 1:42 remaining.
"I'm usually at a size disadvantage. I'm not the biggest big man out there, but you have to make up for it with strength and hustle," said Morgan, who had a game-high 11 rebounds to go along with eight points. "You have to want the ball more than they do. It was definitely challenging. They have some really good kids on that team, but I just did what I could."
Despite having to grind out a win on Friday night against Olathe South, LHS was able to look fresh in the fourth quarter of its second game in two days. The Lions shot 5-for-7 from the field in the final quarter, while also going 12-for-16 from the free-throw line and forcing seven turnovers on defense.
"Us scheduling them on a Saturday, right after we played a Friday night game is not easy," LHS coach Mike Lewis said. "We're challenging our team. You look at our schedule, and we're playing a tough schedule. This is a great example, and it'll pay off in the long run for our guys to step up and play two games like that."
By the end of the third quarter, Rockhurst grabbed some momentum, scoring on its last five possessions. Hawklets junior Patrick Geha scored seven of his 18 points in the last 21⁄2 minutes, but Roberts was able to respond out of a LHS timeout to score on a layup, draw the foul and make his free throw. On the next Lions possession, Rajewski hit a three-pointer, which helped Lawrence take a 48-45 lead into the fourth quarter.
To open the fourth quarter, LHS held Rockhurst without a score until its fourth possession. Meanwhile, Barbee scored on a layup before senior Connor Henrichs and Morgan combined to make three of four free throws to give the Lions a 51-45 advantage early in the final quarter.
"I thought we did a pretty good job (playing on back-to-back days)," Bonner said. "It was challenging somewhat. Last night in the fourth quarter we got a little tired, but I thought we bounced back really well today, better than I thought we would."
The Lions went on a 15-6 run to end the first half, highlighted by Barbee, who connected on two three-pointers, and Roberts, who scored five of his game-high 21 points with two layups and a free throw.
After not playing any games in the last three weeks due to winter break and bad weather, LHS was able to walk away with two wins in less than 24 hours.
"You just never know how you're going to be (out of long breaks). I just thought this says a lot about our guys," Lewis said. "They're tough, they're hard workers and they can step up when the challenge is there."
The Lions will face Shawnee Mission West on Tuesday at LHS.
Copyright 2018 The Lawrence Journal-World. All rights reserved. This material may not be published, broadcast, rewritten or redistributed. We strive to uphold our values for every story published.