Photo Gallery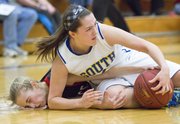 LHS girls vs. Olathe South
Olathe South girls 71, Lawrence High 35
Lawrence (35)
Makayla Bell 3-5 0-0 7, Marissa Pope 6-17 2-3 14, Hailey Belcher 0-3 0-0 0, Kionna Coleman 4-14 2-8 10, Jolona Shield 0-4 0-0 0, Olivia Lemus 0-5 0-0 0, Skylar Drum 0-3 0-0 0, Jaycie Bishop 0-4 1-2 1, Brook Sumonja 1-3 0-0 3, Matia Finley 0-1 0-0 0. Totals 14-61 5-13 35.
O-South (71)
Zoe Matje 1-6 1-2 3, Kylee Kopatich 1-7 3-4 5, Samantha Samskey 2-7 2-4 6, Bailey Rinehart 4-7 3-4 11, Jordan Morton 2-7 7-10 11, Kala Holder 4-6 2-5 10, DeJanae Roebuck .7-8 0-0 14, Makayla Gooch 0-1 2-4 2, Nyia Duncan 1-1 0-0 2, Kacey Kennett 0-2 2-2 2, Lindsay Bartels 2-3 1-2 5. Totals 24-56 23-37 71.
LHS 2 4 14 15 — 35
O-South 11 21 21 18 — 71
Three-point goals: LHS 2-17 (Bell, Sumonja); O-South 0-9. Fouled out: None. Turnovers: LHS 17, O-South 13.
Olathe — Lawrence High girls basketball coach Nick Wood needed a second to come up with a way to describe a nearly 13-minute stretch in the first half Friday night at Olathe South, during which the Lions didn't make a single field goal.
"Rough is one word," Wood said of the drought that led to a 71-35 road drubbing.
"To me it seemed like about 32 minutes," the coach added, with disappointment.
If this had happened last season or the year before, when the Lions suffered blowout losses routinely, maybe Wood wouldn't have been so caught off guard. Yes, LHS (1-5) had lost more often than not so far this season, but three of the Lions' four setbacks came by four points or less.
"Our previous five games," the coach said, "we had come out and been extremely competitive and been in every game with a chance to win some games."
However, the Lions never found any offensive rhythm at O-South. In the first half, they converted just one field-goal attempt in both the first and second quarters.
Senior forward Kionna Coleman's jumper at the 5:40 mark of the first quarter made it a 5-2 Falcons lead, but LHS went scoreless the rest of the quarter, trailed 11-2 entering the second, and didn't register another single point until freshman guard Jaycie Bishop hit one of her free throws with 4:07 left in the half, making it a 22-3 deficit.
Lawrence went more than 12 minutes without a field goal before senior forward Makayla Bell snagged an offensive board in the paint and scored a layup with 1:02 left in the second quarter.
The Lions finished 2-for-26 from the floor in the first half and trailed, 32-6, entering the third.
"I totally understand they're the top of the mountain," Wood said of O-South's program. "They're one of the best teams in our league, they're one of the best teams in the state and they have been for a long time. It's a good measuring-stick opportunity. They came out and they locked us down. We didn't adjust to that very well in the first half."
The Lions' offense at least escaped a funk in the second half. Lawrence went 12-for-35 from the field as the O-South lead grew.
Junior point guard Marissa Pope scored all 14 of her points in the second half, and Coleman finished with 10 points and seven rebounds. Bell added seven points for LHS.
Wood admitted there were signs of improvement in the last 16 minutes.
"It's still extremely frustrating," he said.
LHS plays host to Shawnee Mission West on Tuesday.
Copyright 2018 The Lawrence Journal-World. All rights reserved. This material may not be published, broadcast, rewritten or redistributed. We strive to uphold our values for every story published.