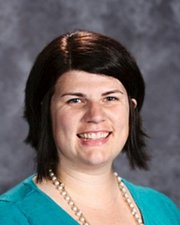 Laura Priest, an agriculture teacher at Free State High School in Lawrence, has been selected as one of only 20 individuals nationwide to take part in a new professional development program aimed at midcareer ag teachers.
Priest was selected to be part of the inaugural XLR8 Institute, a project of the National Association of Agricultural Educators, which says the program is meant to help agriculture teachers who have been in the classroom seven to 15 years address issues that often lead to their leaving the profession.
The program kicked off at the recent NAAE convention in Las Vegas and will continue throughout the year. NAAE said the goal is to retain participants in the teaching profession and to give them the tools to help other midcareer teachers.
"I want to share my story and experiences with others and learn from then as well during this professional development opportunity," Priest said.
Priest has taught at Free State since 2007. She currently teaches animal science, agri-science, plant science, natural resources, welding, agribusiness and veterinary science. She also advises the FFA chapter, manages the school garden and greenhouse, and coordinates several FFA competitions in the district.
Priest received a bachelor's degree in agricultural education from Kansas State University in 2006. In 2012, she was named the Outstanding New Career and Technical Teacher by the Kansas Association for Career and Technical Education.
Copyright 2018 The Lawrence Journal-World. All rights reserved. This material may not be published, broadcast, rewritten or redistributed. We strive to uphold our values for every story published.