Photo Gallery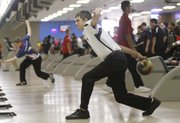 Free State bowling invitational
Free State hosted the Lawrence Lions and other area teams in their Invitational bowling tournament Saturday, Jan. 4, at Royal Crest Lanes.
In the quarterfinals of the Free State Invitational, Saturday at Royal Crest Lanes, Lawrence High senior Kierstan Warren stepped up to the lane with her team on the verge of elimination and facing a difficult 7-4-10 split.
Warren rolled the ball toward the two pins on the left side of the lane, and was able to get one of the pins to bounce to the right and knock down the remaining pin to pick up the spare. It was a moment that brought a thunderous roar from those watching, and it lifted LHS to a comeback victory over top-seeded Topeka High, before the Lions eventually lost in the championship to Washburn Rural.
"My ball just happened to get the reaction that I was looking for, and it hooked in there and I got all three (pins)," Warren said. "It's like pure magic. You only do that once in a lifetime."
The invitational used the Baker format, where five teammates alternate bowling toward one score. Each school was seeded based on its total scores in the morning and faced off in a single-elimination bracket, going head-to-head against another school in a best-of-three series. LHS won the tournament last year.
After Warren's miraculous spare helped the Lions beat Topeka High, 142-129 in the second game of the three-game set, LHS won the final game, 194-168.
Next, the Lions beat Olathe North in the semifinals. The teams split the first two games, and the series was decided by the final three frames in the last game. With LHS leading by one pin, Warren posted a strike in the eighth frame, before Morgan Daniels got a split in the ninth and Miranda Krom put up a split and a nine in the 10th frame for a 153-149 win.
The Lions lost 2-1 in the best-of-three game championship against Washburn Rural, losing 158-141 in the decisive final game.
"It felt pretty good," said sophomore Krom, who posted a 490 series (164-165-161) to place 19th in the tournament. "We didn't win but I think we still did pretty well as a team. We competed well."
Miranda Sexton, Allie Crockett and Abby Schmidtberger also contributed to the team's second-place finish with well-timed strikes and spares.
"We took second and we get another plaque," Warren said. "No, it's not first, but you know what, to take second going off three days of practice, that's not bad at all. I'm so proud of our ladies."
The LHS boys team earned a third-seed into the boys' bracket, led by Triston Decker, who posted a three-game series total of 610 — the fifth-highest boys score at the invitational. William Bewick finished in eighth place with a series total of 592, while Carter Gehrke ended up in 19th with 549.
However, after a first-round bye in match play, the Lions lost two straight games to Topeka Seaman in the quarterfinals.
"We all did pretty well considering the lane conditions," Decker said. "We were (bowling) after the girls so obviously not as (fresh) as what we were used to in practice. But we adjusted fairly well."
The Free State girls lost in the quarterfinals to Topeka Seaman, after earning a seven-seed in the bracket. Sophomore Gentry Jordan posted a series total of 536 (180-165-191), which put her in 11th place in the tournament, while junior teammate Bri Martin finished 15th with a score of 504 (136-201-167).
"I did really well my first three games, but then we got to Baker bowl and I did kind of bad," Jordan said. "As a team, we need some work."
FSHS boys struggled adjusting to the lane conditions in their first individual game before improving their score in the final two games. Senior Briggs Fish finished 15th among competitors with a series total of 558 after posting a 223 in his final game.
"We finished off the last two games pretty well," Fish said. "That's what we look for in bowling, steady improvement throughout all three games. I thought we did really well with only three days of practice."
FSHS boys lost to Hayden in the opening round of match play.
"As the year progresses, the team knows that they will get better and that they will get back into the routine," FSHS coach Burton Gepford said. "When regionals come up, they'll be prepared and ready to go."
Copyright 2018 The Lawrence Journal-World. All rights reserved. This material may not be published, broadcast, rewritten or redistributed. We strive to uphold our values for every story published.