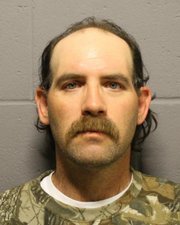 A 42-year-old Lawrence man will be sentenced in April after pleading no contest today to charges of criminal sodomy and indecent liberties with a child.
District Judge Peggy Kittel accepted the plea, then revoked Jerry Leon Criqui II's bond, which was previously $75,000, and scheduled his sentencing for April 18.
Criqui was arrested by Lawrence police Oct. 17 in the 1500 block of Wedgewood Drive in east Lawrence on suspicion of indecent liberties with a child and criminal sodomy.
Police said Criqui was arrested after an investigation completed by a Lawrence Police Department juvenile investigator. Sgt. Trent McKinley, a Lawrence Police Department spokesman, told the Journal-World in October that the charges stem from incidents in 2012 and 2013. Police have said that Criqui and victim knew one another and that the victim was younger than 18.
Copyright 2017 The Lawrence Journal-World. All rights reserved. This material may not be published, broadcast, rewritten or redistributed. We strive to uphold our values for every story published.