Photo Gallery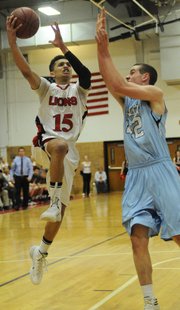 Lawrence High boys basketball vs. Shawnee Mission East
Box score
SHAWNEE MISSION EAST (69)
Jones 22, Burns 21, Wentz 11, Haverty 6, Englund 5, Guastello 2, Blessen 2, Flint 0. Totals 21 18-23 69.
LAWRENCE (65)
Roberts 16, Bonner 14, Barbee 11, Morgan 9, Henrichs 8, Rajewski 5, Brou 2. Totals 26 9-14 65.
SM East 17 23 10 19 — 69
Free State 10 17 20 18 — 65
Three-point goals: Burns 6, Englund, Jones, Wentz; Roberts 3, Rajewski. Fouled out: Burns.
Lawrence High staged a wild second-half comeback only to fall short against clutch-shooting Shawnee Mission East, 69-65, Tuesday night in an intense, entertaining Sunflower League boys basketball game in the Jungle, the old-school LHS gymnasium.
Luke Haverty hit a pair of free throws with 21.6 seconds left and another two with 5.6 seconds remaining to lift the visiting Lancers (13-6) to victory.
Down 13 points at halftime and 17 points early in the third quarter, the Lions (15-4) turned up the defensive pressure and forced SM East into five consecutive turnovers during a 16-2 run to close the third quarter, with the Lancers' lead on life support, 50-47. Lions senior Connor Henrichs tied it up with a lane jumper, 55-55, with 5:20 left. Sophomore forward Price Morgan (nine points) turned an offensive rebound into a three-point play to give LHS a 58-55 lead. It slipped away in part because East's Colin Burns (21 points) hit two of his six three-pointers down the stretch.
The Lions didn't lose without a strong fight. Junior Anthony Bonner's blurry quick first step got him to the lane, where he finished by laying in an oh-so-smooth scoop shot that brought the Lions within two, 65-63. Sophomore Justin Roberts hit a runner in the lane to cut the deficit to two points again with 14.5 seconds left, but it was the closest the Lions would come.
"I love the way our guys fought back in the third quarter," LHS coach Mike Lewis said. "In the third quarter we started to deflect the ball and react and steal. That's who we are. And we hit some momentum shots that fueled our fire on defense."
In doing so, the hosts turned what looked to be a blowout in the making into a thriller.
Lancers center Lucas Jones, a 6-foot-7, slender, skilled junior, used his size advantage to score a game-high 22 points. Twice the Lancers inbounded the ball directly to him with lobs at the goal for easy buckets. He dropped it in the first time and dunked the second one.
Jones even stepped out and buried a three-pointer.
"We knew he would be tough," Lewis said. "He's just a big, long forward, the type of player we have a tough time guarding, and we have to guard him as a team. He was a man amongst boys on a few possessions."
LHS guard Roberts led the team with 16 points, and Bonner had 14. Nobody had a bigger hand in the defense-driven comeback than junior John Barbee, whose relentless hustle led to turnover after turnover. He also fed sophomore Fred Brou for a bucket down low on a beautiful bounce pass from the lane.
"He's got such a good motor," Lewis said of Barbee. "He just competes whether the going's good or the going's bad. He just fights and competes, and he eventually gets his hand on the basketball, whether it's a deflection and somebody else steals it or he gets the ball and does something with it. He has good, quick reactions. He's just one of those big-time energy guys for us."
Barbee's contribution was louder than his 11 points might indicate. Early in the comeback, Barbee stepped into a passing lane for a steal, went coast to coast, was fouled and converted the three-point play.
"We make up for our size with our speed, how fast we are," Barbee said. "I love getting the steals and getting after them. It's just what I love to do."
Down 17-10 at the end of the first quarter, the Lions' deficit grew to 18 points late in the second quarter, before Roberts infused some energy into the team and the crowd with a rare five-point play. After Roberts released a 25-footer that swished, his defender couldn't stop himself from crashing into Roberts, who made both ends of the one-and-one. Just like that, an 18-point deficit became 13, a sneak preview of what was to come in the third quarter.
Copyright 2018 The Lawrence Journal-World. All rights reserved. This material may not be published, broadcast, rewritten or redistributed. We strive to uphold our values for every story published.