Photo Gallery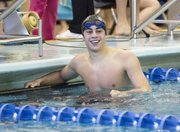 2014 state swimming championship
Free State High freshman Jordan Portela grew up watching his older brother and sister win state swimming titles. He had every swimmer in the state looking up to him at the Class 6A boys state swimming championship Saturday afternoon.
Portela won state titles in the 200-yard freestyle and the 100 butterfly while also taking Athlete-of-the-Meet honors. His performance, along with that of senior Canaan Campbell's winning the 500-yard freestyle, helped the Firebirds to a fifth-place state finish at the Capitol Federal Natatorium.
"It was awesome," said Portela, who was the only freshman to qualify for the finals in any race at the meet. "As a freshman, it's my dream, I guess. Whenever I went to my brother's meet when I was little, I just always wanted to (win a state title), and I did it today, so I was very pleased."
Portela raised his right arm in celebration after looking at his winning time in the butterfly while his teammates and coaches jumped up and down on pool deck.
"He works so hard at it to get that point as a freshman," Campbell said. "You can't just rely on talent alone. He took it to a whole 'nother level. He's using his talent to make him obviously the best swimmer at this meet and maybe in Kansas high school state history."
Free State's 200 medley relay team set the tone in the day's first event by setting a school record with a time of 1:35.30 and finishing in second place. The Firebirds ultimately broke school records in seven events at the meet.
"If you look at how many school records were broken and how fast they swam, everything they did to put it together, I just have to be really proud," FSHS coach Annette McDonald said.
Campbell, a Missouri State signee, also took second place in the 200 individual medley in a school-record time of 1:54.61.
Junior Josh Terrell, who made first-team all-state along with Portela and Campbell, placed second in the 100 breaststroke while breaking the school record and placed fifth in the 200 individual medley.
"Yesterday I was actually very disappointed in how I swam," said Terrell, who made the finals in the 100 breaststroke by .01 seconds. "I kind of got down on myself, but then I got motivated (after the 200 medley relay). The team was doing so well that I just wanted to surprise some people, and that's what I did."
Free State's 200 freestyle relay placed fifth, and its 400 freestyle relay took second. Both set school records.
The Firebirds had four swimmers in the consolation finals, and freshman Chad Bourdon finished 14th in the one-meter dive. Junior Jack Ziegler took 10th in the 50 freestyle, Nolan Stoppel was 16th in the 100 freestyle, Zachary Denny took 16th in the 500 freestyle, and senior Hunter Robinson swam to 15th in the 100 breaststroke.
Though the Firebirds matched their place in the team standings from last season, they were excited about their times and Portela's success.
"It's just awesome," Portela said. "I was so happy and supported by all of my teammates. It was a little hard yesterday, but I just decided to turn it around, put a smile on my face and just went for it. I was pleased with everything. It was great."
Lawrence High senior Caleb Axlund was the only individual from LHS to make the finals and took 14th in the 100 backstroke. The Lions finished 14th in the 200 medley relay, 12th in the 200 freestyle relay and 15th in the 400 freestyle relay.
"We did really well," LHS coach Kent McDonald said. "Yesterday was a good day for us. We got in at pretty much everything. …We lowered our time in almost every event, and all of the swimmers did really well."
6A Kansas State Meet
Saturday at Topeka-Capitol Federal Natatorium
Team scores: Blue Valley North 312.5, SM East 301, Wichita East 282, Washburn Rural 257.5, Free State 216, Olathe East 180, Maize 146, Blue Valley 144, Blue Valley West 125, SM South 75, Derby 55, Blue Valley Northwest 49, Olathe South 46, SM North 42, Manhattan 30, Lawrence 23, SM West 16, Wichita Northwest 9, Olathe North 8, Wichita North 4, Campus 2.
Free State All-State First Team Selections: Jordan Portela, Josh Terrell, Canaan Campbell.
Free State results
200 Medley Relay: 2. Canaan Campbell, Josh Terrell, Jordan Portela, Jack Ziegler, 1:35.30.
200 Freestyle: 1. Jordan Portela, 1:41.53.
200 IM: 2. Canaan Campbell, 1:54.61. 5. Josh Terrell, 1:56.04.
50 Freestyle: 10. Jack Ziegler, 22.26.
Diving: 14. Chad Bourdon, 318.45.
100 Butterfly: 1. Jordan Portela, 50.79.
100 Freestyle: 16. Nolan Stoppel, 50.03.
500 Freestyle: 1. Canaan Campbell, 4:40.74. 16. Zachary Denny, 5:09.87.

200 Freestyle Relay: 5. Nolan Stoppel, Hunter Robinson, Josh Terrell, Jack Ziegler, 1:29.09.
100 Breaststroke: 2. Josh Terrell, 57.97. 15. Hunter Robinson, 1:03.08.
400 Freestyle Relay: 3. Canaan Campbell, Jack Ziegler, Nolan Stoppel, Jordan Portela, 3:11.56.
Lawrence High results
200 Medley Relay: 14. Caleb Axlund, Kiefer Stellwagon, Tim Schraad, Darren Rawlings, 1:49.22.
200 Freestyle Relay: 12. Caleb Axlund, Chase Odgers, Tim Schraad, Darren Rawlings, 1:34.34.
100 Backstroke: 14. Caleb Axlund, 58.40.
400 Freestyle Relay: 15. Caleb Axlund, Darren Rawlings, Chase Odgers, Tim Schraad, 3:36.39.
Copyright 2018 The Lawrence Journal-World. All rights reserved. This material may not be published, broadcast, rewritten or redistributed. We strive to uphold our values for every story published.