Photo Gallery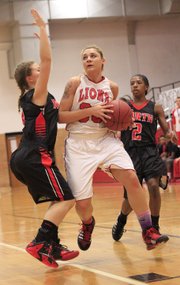 LHS girls basketball vs. SM North
Lawrence High senior Kionna Coleman knew some colleges were going to watch her play on Tuesday night against Shawnee Mission North at LHS. It didn't take long for her to impress them.
Coleman scored a game-high 27 points, including the first nine points for the Lions, to lead her basketball team to a 58-49 victory. It was the Lions' first Sunflower League win of the season.
"We knew with the matchups that Kionna was going to have a great opportunity to be really productive inside," LHS coach Nick Wood said. "The emphasis we talked about pregame was first, get the ball across half court and handle the pressure, and second of all, be patient and hammer that ball inside."
Coleman, who also had a game-high 14 rebounds to complete a double-double, scored seven points in the fourth quarter. The Indians (7-10) cut the deficit to five points with a minute remaining, but Coleman followed up senior Makayla Bell's miss for a layup to end any chance of a comeback.
Bell, another post player who had a double-double with 17 points and 10 rebounds, scored 11 points in the second quarter, leading the Lions to a 12-0 run to end the half for a 32-14 advantage. After SM North sophomore Ashley Ross made a layup, the Indians turned the ball over eight times and missed their next 10 shots.
"It was a sigh of a relief," Coleman said. "Finally we got over the hump, even without our point guard, Marissa (Pope). It was a great, great feeling."
Pope is likely out for the season due to a left foot injury, while freshman starter Jaycie Bishop has been sidelined by a concussion.
LAWRENCE (58)
Olivia Lemus 0-2 0-0 0, Skylar Drum 0-1 0-1 0, Brook Sumonja 0-0 1-4 1, Makayla Bell 5-13 7-11 17, Hailey Belcher 1-4 0-2 3, Kionna Coleman 10-19 7-10 27, Jolona Shield 3-12 1-2 10. Totals 19-51 16-30 58.
SM NORTH (49)
Jazmin Williams 3-5 0-1 7, Briana Farr 2-11 2-5 6, Darian Dozier 6-14 3-6 18, Caitlin McNulty 1-6 1-4 3, Ashley Ross 5-9 3-6 13, Jolee Williams 1-6 0-1 2, Shelbye Sweet 0-4 0-0 0. Totals 18-55 9-23 49.
SM North 12 2 20 15 — 49
Lawrence 20 12 15 9 — 58
Three-point field goals: SM North 4-14 (Dozier 3, Ja. Williams); Lawrence 4-18 (Shield 3, Belcher). Fouled out: Ja. Williams, Ross, Jo. Williams. Turnovers: SM North 23, Lawrence 26.
Copyright 2018 The Lawrence Journal-World. All rights reserved. This material may not be published, broadcast, rewritten or redistributed. We strive to uphold our values for every story published.