Photo Gallery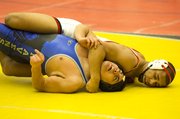 Sunflower League wrestling
Sunflower League Tournament
Saturday at Olathe North
Team scores: 1. Olathe North 259.5. 2. Olathe Northwest 160.5. 3. Olathe East 154. 4. Shawnee Mission South 136.5. 5. Lawrence 133. 6. Leavenworth 131.5. 7. Shawnee Mission East 130. 7. Shawnee Mission Northwest 130. 9. Olathe South 106.5. 10. Lawrence Free State 84. 11. Shawnee Mission North 82. 12. Shawnee Mission West 71.
Lawrence placers: 106 pounds- 3. Xavier Kenney. 132 pounds- 3. Garrett Girard. 160 pounds- 4. Isaias Rojo. 170 pounds- 1. Ryan Bellinger. 182 pounds- 1. Alan Clothier. 285 pounds- 3. Alex Jones.
Lawrence Free State placers: 106 pounds- 5. Cameron Shanks. 113 pounds- 3. Quailan Fowler. 170 pounds- 2. Sam Skwarlo. 285 pounds- 2. Tyler Sampson.
Sunflower League Most Outstanding Wrestler: Alan Clothier (Lawrence).
Sunflower League Most Outstanding Head Coach: Josh Carroll (Olathe North).
Olathe — Lawrence High sophomore wrestler Alan Clothier took another step in pursuit of his ultimate goal — a Class 6A state championship.
Ranked by Kansas coaches as Class 6A's top wrestler at 182 pounds, Clothier was relentless in manhandling Shawnee Mission Northwest's LaPhonso McKinnis by major decision, 18-6, in the championship match of the Sunflower League tournament on Saturday at Olathe North.
Clothier, who was named the Sunflower League's most outstanding wrestler, improved his record to 25-1 after defeating McKinnis, the 2013 state champion at 170.
"I didn't see this coming," Clothier said of the league accolades. "I didn't think I was going to get it, but it was a shock. I just keep striving for state. I ended up getting third at state last year.
"I really want a state championship really bad this year because it really hurt last year when I didn't get it. That's what really drives me today as I look back and see how hurt I was because I lost that match (in the semifinals). That just made me work harder and harder and harder as I prepared for this season."
Lawrence's Ryan Bellinger also joined Clothier on the victory stand after edging up-and-coming Free State sophomore Sam Skwarlo in overtime, 2-1, in the 170 class.
Bellinger, who improved to 22-9 overall, pulled out an escape with only 2.6 seconds left in OT to overtake Skwarlo.
"I went for a gramby," Bellinger said of his escape. "It's a little bit of a high-risk move. It's kind of a roll. I've gotten caught earlier this year, but this time I just wanted to get out. I played little-league football with (Skwarlo's) older brother for about five years, so I knew Sam through that, and he's a heckuva wrestler.
"It was huge for me," Bellinger added. "This is my last year, and I've been to this tournament three times. It's actually the first tournament I've ever won, so it feels really great to go back to Lawrence and say of the entire Sunflower League, I came out on top."
Lawrence coach Pat Naughton, whose team finished fifth in the 12-team standings with 133 points, said Clothier and Bellinger came out with good schemes.
"He wrestled really well," Naughton said of Bellinger. "He came out with a game plan at hand, and we pretty much knew that if everything went to plan, we'd be facing Skwarlo in the final, and Sam is just a beast. If you go back to their previous meeting at Lawrence High, it was the same thing, overtime.
"Alan also has a good game plan at hand. Last year, after the season, he went out to Virginia Beach and wrestled at 170 pounds and got second at nationals, beating kids from across the nation. He's not a stranger to the limelight, and that's when he seems to showcase his stuff a lot. He loves showtime."
Skwarlo, now 23-7, was joined by heavyweight teammate Tyler Sampson as second-place finishers for Free State, which took home 10th place with 84 points. Sampson lost by fall to Chase Miller of Olathe North, which won the league crown for the second straight season.
"Tyler especially did really good," Free State head coach Mike Gillman. "He was one of my little surprises for today because he's one of those kids that I didn't know if he would do extremely good. He was kind of down on himself for losing last week, so he came back and made it all the way to the championship match."
"Sam's one of our kids that is a football player who is transitioning into wrestling," Gillman said, "so you have to teach him a couple things, but he has so much talent as far as strength-wise and endurance. He's one of those kids that fights so hard at everything he does, and he gets so upset with himself when he loses, but it's almost a learning experience for him, only being a sophomore."
LHS wrestlers will head to Gardner-Edgerton next Saturday for their Class 6A regional. Free State will compete at Washburn Rural in Topeka.
Copyright 2018 The Lawrence Journal-World. All rights reserved. This material may not be published, broadcast, rewritten or redistributed. We strive to uphold our values for every story published.