Film, stage and TV actress and singer Barbara Eden recently accepted an invitation from Kansas University Chancellor Bernadette Gray-Little to come to Mount Oread and speak to students in KU's theater department.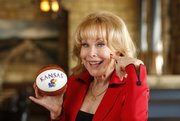 It's no coincidence the dates of her visit coincided with a Jayhawk basketball game.
Eden and her husband, KU graduate Jon Eicholtz, happen to be huge KU hoops fans and will be in Allen Fieldhouse for today's 3 p.m. contest against TCU.
"I have my earplugs. I'm ready to go. Rock Chalk Jayhawk, KU," Eden exclaimed Friday in an interview with the Journal-World. "We watch every game," added Eden, best known for her starring role in the 1960s sitcom "I Dream of Jeannie."
"I get very nervous. You might see me doing this," she noted, referring to placing her head in her hands during tense moments of the game.
Author of the 2011 New York Times bestseller "Jeannie Out of the Bottle," Eden lives with her husband in Beverly Hills, Calif. She toured the fieldhouse two years ago while in town for Eicholtz's Sigma Chi Fraternity reunion, but has yet to see a game in the Jayhawks' historic building.
She attended the KU-Duke game in November in Chicago.
"Could it be a tough game if Embiid isn't in it?" Eden asked, showing her knowledge of the 2013-14 Jayhawks.
Freshman center Joel Embiid, who was listed as questionable during the week, in fact will sit out today's game as he nurses his sore knee and back. Eden also discussed the pro prospects of some of the KU players in her chit-chat with the J-W at The Oread Hotel.
She said she enjoyed speaking to 50 or so KU students Friday afternoon.
"It was wonderful, just wonderful. They were very bright and eager and well-read," Eden, 79, said. "I answered their questions, some of them practical about getting a job and how to do it. Others were more — how would I say it? — how to be an actor? How do you approach your role and things like that. My main theme was no matter what you do, you have to be true to yourself, true to your character."
Eden, who attended City College of San Francisco for two years, has been active in acting since 1955. She recalled her first real break as being hired to do comedy sketches on Johnny Carson's Tonight show.
She has worked as leading lady in films alongside actors Clint Eastwood, Paul Newman and Elvis Presley. She laughed when asked if she's worked with more Hollywood heart-throbs than any woman in the history of the business.
"I doubt that. I think Sophia Loren has many, many more," Eden said.
As far as tackling the question of who is the best sitcom character in history, Eden didn't boastfully choose "Jeannie."
"I would say Lucille Ball," said Eden, who appeared with Ball on Ball's TV show. "At what she did, she was (a genius). Like Carol Burnett. They are unique," Eden added.
Eden, who has met six U.S. Presidents, is generally regarded as an American sweetheart. One person said in a documentary of Eden: "Everybody loves Barbara Eden."
"I don't know about that," Eden said. "Everybody loves 'Jeannie.' I don't know if everybody loves Barbara Eden.
"I've been very lucky. I've had a lot of good friends, family, good husband, so in that respect I do feel beloved. I'm very happy I have as many fans as I do. They are nice people. Everyone I've met who is my fan, at autograph shows, whatever, they are polite and wonderful."
Eden, a physical fitness advocate who wore a red blazer, black shirt and black leather pants to the interview, says she loves this part of the country, Kansas in particular. She's been all around the world, recalling one instance in "either Rome or Munich" in which she was shocked to see an "I Dream of Jeannie" episode playing at the airport.
"Jon and I were talking about it as we flew here. It's clean, very clean and the people are nice, polite and the food is dynamite," said Eden, who admits to being a fan of Kansas City barbecue. "I love Kansas food."
As somebody who grew up not really following sports — "I flunked gym class," she said — Eden goes on the record as being a booster of two teams.
"Just KU and the San Francisco 49ers football team. That's about it," she said.
Copyright 2018 The Lawrence Journal-World. All rights reserved. This material may not be published, broadcast, rewritten or redistributed. We strive to uphold our values for every story published.