Contact KU and higher ed reporter Sara Shepherd
Have a tip or story idea?
---
More stories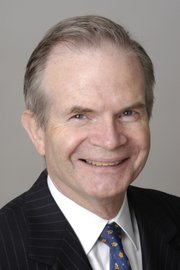 Paul Steiger, founding editor of the investigative news site ProPublica, won honors today from the Kansas University School of Journalism.

The school gave Steiger the William Allen White Foundation's 2014 National Citation, an award that has gone to prominent journalists, editors and publishers such as Arthur Sulzberger, Bob Woodward and Walter Cronkite.
A 1964 graduate of Yale, Steiger worked as a managing editor of the Wall Street Journal from 1991 to 2007. During Steiger's tenure, Journal staff won 16 Pulitzer Prizes. He also worked as a correspondent and business editor at the Los Angeles Times for 15 years.
Starting in 2008 Steiger became CEO, president and editor-in-chief of ProPublica, a nonprofit investigative news organization that publishes online and frequently collaborates with other news organizations. ProPublica has won two Pulitzers.
Introducing Steiger today were KU alumni Jerry Seib, Washington bureau chief of the Wall Street Journal, and Barbara Rosewicz, director of the Pew Charitable Trusts.
At one point Seib highlighted Steiger's leadership at the Wall Street Journal on Sept. 11, 2001. Amid the attacks on the World Trade Towers, Steiger led his news team from a kitchen in New Jersey so they could put out the next day's paper, which would go on to win a Pulitzer.
Speaking at the Kansas Union's Alderson Auditorium, Steiger discussed the history of investigative journalism and questioned the idea, posited by some commentators, that journalism has entered a new "golden age."
For that to happen, Steiger said, journalists, publishers and others need to "find a new way to get paid" to cover the costs of doing journalism amid an age of rapidly changing technology and shifting trends in the media economy.
Copyright 2018 The Lawrence Journal-World. All rights reserved. This material may not be published, broadcast, rewritten or redistributed. We strive to uphold our values for every story published.