Photo Gallery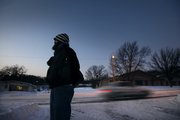 Lawrence digs out of the snow
Here's how Lawrencians are spending the day following the snow storm in Lawrence. Keep checking back for more photos. Tag us (@ljworld) on social media or use the hashtag #ksstorms on your winter Vines, Instagrams and other videos and pictures, and we'll add them here. If you prefer email, send your stuff to digital editor Alma Bahman at abahman@ljworld.com with the subject line: Snow Day
Lawrence road crews worked all night to clean up after one of the worst snowstorms in the history of the city.
The city announced this morning that all residential streets have been plowed, after crews spent much of Wednesday focusing on clearing major thoroughfares. The crews had worked nonstop since early Tuesday morning, when a winter storm began covering Lawrence with as much as 14 inches of snow, making it one of the top five snowfalls of all time for the city. They will continue removing snow from downtown and spot treat residential areas as needed today. In addition, the city's sidewalk snow ordinance will go into effect Friday at 8 a.m. and is handled on a complaint basis. Click here to file a sidewalk snow complaint.
Meanwhile, public schools in Lawrence, Eudora and Baldwin City remain closed for a third day. A National Weather Service wind chill advisory remains in effect until noon, with wind chills expected to be below zero through Friday.
Lawrence's city hall, parks and recreational facilities, buses and trash collection services are scheduled to operate as usual today. The state Legislature and state offices also reopened today.
The city is already preparing for what it expects is another snowstorm that will begin Friday night. The forecast the city has received is a 40 percent chance of 1 inch to 3 inches of snow beginning Friday night into Saturday morning.
"Because of the timing of this event, we'll move right into equipment repairs and getting some guys some sleep so they are ready to go on Friday night," said Mark Thiel, the city's assistant director of public works.
No major auto accidents have been reported during the snow. Laurie Powell, a Lawrence Police Department spokesperson, said at least one car accident was attributable to road conditions Wednesday, although no injuries were involved.
The Lawrence school district will now have used four snow days this year. District spokeswoman Julie Boyle said the district had enough minutes in the calendar to absorb the first one (Jan. 6). The schools will use their inclement weather makeup day (April 18) to compensate for the second one (Tuesday). Because Lawrence schools built in a make-up day into its calendar and is using it, the state "forgives" the district for its third snow day (Wednesday), Boyle added.
The school board will now need to decide how to make up additional lost instructional time to meet state requirements of 1,116 hours.
— Reporters Peter Hancock and Elliot Hughes contributed to this story.
Copyright 2018 The Lawrence Journal-World. All rights reserved. This material may not be published, broadcast, rewritten or redistributed. We strive to uphold our values for every story published.